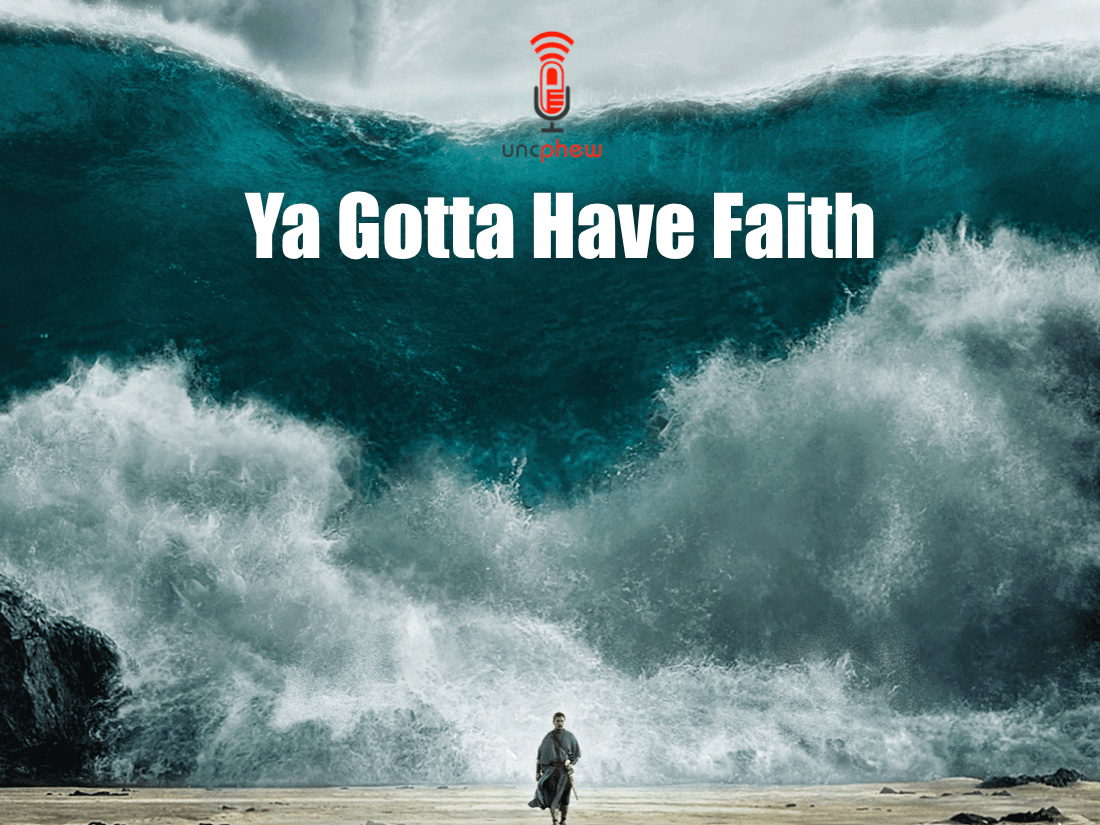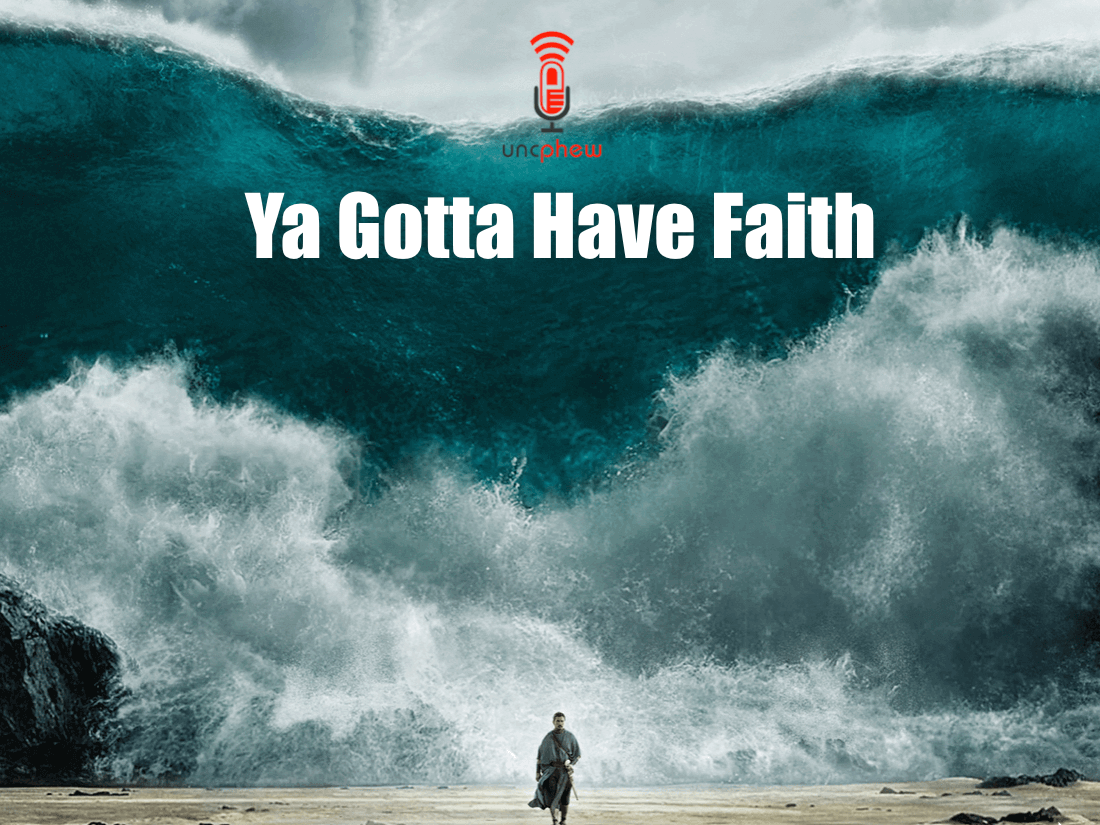 EP23: Ya Gotta Have Faith
In order to experience the best in this life, I sincerely believe you must have faith. Ya gotta have faith – you just do.
I HAVE A PROBLEM
Right now, I have a problem.
It's a significant problem.
The kind of problem you lose sleep over.
The kind of problem that could literally alter the quality of my life…
<gulp>
…for the rest of my life.
BUT I'M NOT WORRIED
Here's what's weird: I'm not concerned…at all.
The specifics of my problem don't matter.
They aren't relevant to the point of this post.
The point of this post is that – no matter what the problem may be, no matter how big or how terrifying it feels, no matter how insurmountable it may appear – I can deal with it.
Why do I feel this way?
To what do I attribute this mentality?
Why do I have such confidence?
Why I am so assured in the face of a situation that could be so devastating?
Why am I not concerned…even though my problem is truly significant?
HERE'S WHY
In a word?
Faith
It's faith.
It's having a high level of faith seemingly ingrained at birth.
It's building on that faith, which is the natural result of seeing that faith rewarded time and time again, in a myriad of situations large and small, over the course of a lifetime that has now spanned many decades.
Faith is powerful.
Faith can sustain us in and through the most severe of situations, the darkest of days and the most terrifying of nights.
Faith can overcome literally anything.
Before I continue, I should clarify what I am referring to when I mention "faith," as that term is used in a whole slew of situations, secular and spiritual alike.
Within the context of this post, I am specifically referring to the word "faith" as used within the context of the Christian Bible.
Within that context, "faith" has a fairly narrow definition, and refers to believing in Jesus Christ and the God of the Christian Bible.
What faith is not
To be clear, faith is not a form of delusion.
It's not some psychological trick we use to deceive ourselves into ignoring reality.
It's not some emotional slight-of-hand we use to convince ourselves to believe in the fantastic and the unrealistic.
Faith – real faith – is none of those things.
What faith is
Faith is a tool we can use to actually alter reality.
Faith can produce tangible, meaningful results and outcomes in our real, physical, practical, everyday lives.
In fact, according to the Bible, faith can literally move mountains. This is from Matthew 17:20-21:
"Truly I tell you, if you have faith as small as a mustard seed, you can say to this mountain, 'Move from here to there,' and it will move. Nothing will be impossible for you."
While I will mention a little bit more about this later in this post, I simply don't have the space or the available word count to go into the specifics of all the things I've seen and experienced in my life that cause me to have the level of faith that I do. (FWIW, I will be writing separate posts about the more significant of those experiences in the future, so you will be able to judge the validity of those examples yourself, if you are so interested.)
Suffice it to say that, in my opinion, I've had a lot of those experiences.
Personally, I am 100% sure that faith works.
I'd bet my life on that.
LEVERAGING FAITH
So, what do we have to do to leverage faith in our lives?
Get Educated
First, we must educate ourselves about faith. And we do that by simply reading the things written about faith in the Bible.
I would implore you do to exactly that. You can click this link and go to a keyword search of the word "faith" every time it's mentioned in the Bible. Do that to ensure that I'm not misleading you in any way, or spinning or twisting anything for any particular purpose of effect. Or, if you just want a "greatest hits package" of things that happened as a direct result of faith, you can read this one chapter in the Bible.
Takeaways
Second, we need to discern whatever we can from reading those specific scriptures.
Having been a consistent reader of the Bible for many years (I started reading it when I was in my teens, and I have never stopped consuming it consistently), I have read all of those "faith" passages a number of times.
Here are my biggest takeaways, along with the scriptural support for each of those observations:
Takeaway: If you don't believe, you won't receive.
Scriptural references:
Hebrews 11:6: "And without faith it is impossible to please God, because anyone who comes to him must believe that he exists and that he rewards those who earnestly seek him."

Matthew 13:58: "And he (Jesus) did not do many miracles there because of their lack of faith."

Matthew 8:26: "He (Jesus) replied, "You of little faith, why are you so afraid?" Then he got up and rebuked the winds and the waves, and it was completely calm."
If you are a non-believer or a person who lacks faith, the results of your prophecy are self-fulfilling and guaranteed.
If you don't believe, you will not receive.
You must believe to receive.
So, step one in terms of actually beginning to leverage faith is to open up your heart, your mind, your spirit and your soul to the idea of faith.
To the idea that faith actually matters.
To the idea that faith can actually change the facts and circumstances of your life, and of the lives of the people you love.
Takeaway: We are to rely on faith more than we rely on our natural senses.
Scriptural references:
2 Corinthians 5:7: "For we live by faith, not by sight."

Hebrews 11:1: "Now faith is confidence in what we hope for and assurance about what we do not see."

Matthew 21:21: "Jesus replied, "Truly I tell you, if you have faith and do not doubt, not only can you do what was done to the fig tree, but also you can say to this mountain, 'Go, throw yourself into the sea,' and it will be done.""

Hebrews 11:7: "By faith Noah, when warned about things not yet seen, in holy fear built an ark to save his family. By his faith he condemned the world and became heir of the righteousness that is in keeping with faith."

Galatians 3:9: "So those who rely on faith are blessed along with Abraham, the man of faith."
In a world that has become increasingly secular over time, this one is really hard for many of us.
The "humanistic/progressive" movement has never been more powerful than it is right now.
Church attendance has been on the decline for decades, and our world is becoming less and less spiritual every day.
Christianity in particular has been under fire for decades, and people have been increasingly hesitant to share their faith publicly.
Not to mention that this idea of relying on faith more than our own senses cuts so powerfully against the grain in terms of our natural, humanistic instincts.
I mean, how on earth can we be expected to believe in what we don't see more than what we do see?
That doesn't make any sense…from a human perspective.
But it makes complete sense from a Christian perspective, simply because of all that is documented in the Bible in terms of faith and the incredible results it can produce.
So, how can you begin to move in this direction?
By absorbing God's Word.
There simply is no substitute for this.
If you want to become an expert in coding, you would absorb all the content you could find about coding. You would go to the source content that would teach you all about coding, and you would consume it.
Same thing if you wanted to master the Paleo diet, or to become an expert at public speaking, or to become a virtuoso guitarist.
You would go find the best source information you could find, and you would absorb it.
Faith is no different.
And the Bible is the best and only real source of that information.
Here are a couple of scriptures in support of that idea:
Romans 10:17: "Consequently, faith comes from hearing the message, and the message is heard through the word about Christ.

1 Corinthians 2:4-5: "My message and my preaching were not with wise and persuasive words, but with a demonstration of the Spirit's power, so that your faith might not rest on human wisdom, but on God's power."
At the most fundamental, bottom-shelf level, you cannot begin to leverage faith without truly understanding what faith is, what it requires, and the results it can produce.
And the Bible is where you learn all those things.
Takeaway: The degree of our faith matters.
Scriptural references:
Luke 17:6: "He replied, "If you have faith as small as a mustard seed, you can say to this mulberry tree, 'Be uprooted and planted in the sea,' and it will obey you."

Matthew 9:29: "Then he touched their eyes and said, "According to your faith let it be done to you."

Acts 14:9: "He listened to Paul as he was speaking. Paul looked directly at him, saw that he had faith to be healed…"

Matthew 13:58: "And he (Jesus) did not do many miracles there because of their lack of faith."
Inherent in most of what I've written in this blog – and in many of the scripture I have chosen to cite – is the idea that the degree of our faith matters.
And while it is true that having even a small amount of faith can produce amazing results (see Luke 17:6 above), when it comes to faith, more is better. The other three scriptures I cite within this takeaway explicitly support that idea:
"According to your faith, let it be done unto you." This clearly suggests that the results of our faith are in proportion to the degree of our faith.
"(Paul) saw that he had the faith to be healed…" This clearly implies that some specific level of faith is required to achieve certain results.
"And he (Jesus) did not do many miracles there because of their lack of faith." You can't get much more direct than that. Jesus didn't perform many miracles, and it was specifically and explicitly because the people he was dealing with lacked a sufficient amount of faith.
So, if the amount of your faith matters, what can we do to develop more faith?
I view building faith exactly like I view building muscle. I've spent my entire adult life building both relatively successfully, and the fundamentals are basically the same for each:
You go to the gym/read the Bible consistently.
You go the gym/read the Bible even when you really don't feel like it.
You begin to develop a real disciple about building muscle/developing faith.
You begin to see the results of your discipline: you start to grow muscle/see the fruits of your faith.
You begin to gain a more nuanced understanding of what it takes to build muscle/increase the level of your faith.
You see even more results, and that increases your discipline and your drive even more.
And so on…
But all starts with taking that first step: start to learn about faith.
Click this link and get started.
Takeaway: We can overcome sickness and disease with sufficient faith.
Scriptural references:
Matthew 9:2: "Some men brought to him a paralyzed man, lying on a mat. When Jesus saw their faith, he said to the man, "Take heart, son; your sins are forgiven."

Matthew 9:22: "Jesus turned and saw her. "Take heart, daughter," he said, "your faith has healed you." And the woman was healed at that moment."

Matthew 15:28: "Then Jesus said to her, "Woman, you have great faith! Your request is granted." And her daughter was healed at that moment."

Mark 5:34: "He said to her, "Daughter, your faith has healed you. Go in peace and be freed from your suffering."

Luke 8:48: "Then he said to her, "Daughter, your faith has healed you. Go in peace."

Luke 17:19: "Then he said to him, "Rise and go; your faith has made you well."

Luke 18:42: "Jesus said to him, "Receive your sight; your faith has healed you."

Acts 3:16: "By faith in the name of Jesus, this man whom you see and know was made strong. It is Jesus' name and the faith that comes through him that has completely healed him, as you can all see."
I have nothing to add here except for the fact that I have been healed a number of times in ways that defy any logical, secular, scientific explanation.
I've seen many other people have similar experiences.
I've even seen my dog healed in a supernatural fashion that was so amazing I broke down and cried on the spot. Long story short (I will tell this story more completely in a future blog post):
I was playing with my dog (Manny) in my house. A game we liked to play involved chasing each other around in a fairly animated, quick, aggressive manner.
Manny was racing around a large coffee table I have in my great room, and, as he was leaning into a turn really hard, he let out a loud yelp and went down like he had been shot.
He started crying and whimpering, and was clearly in extreme pain. He sat completely still, like he was afraid to move a single muscle of his body, lest he trigger that pain again.
By trial and error, we (my former girlfriend and I) figured out the problem was with his right front foreleg. The pain was severe, as he cried when that area was touched, and he continued not to move, at all. He just lay there on the floor, like a statue, or a very accurate figurine of a dog.
This happened late on a Friday night – the absolute worst possible time for a pet to be injured. We decided to wait until the following day to see how he was doing. We prayed fervently for Manny. We expressed our faith, and we reiterated specific scriptures upon which we were standing and believing.
Saturday brought no relief. We decided to wait another day, as he didn't seem to be in too much pain, so long as he wasn't moving around. We again expressed our faith, even though we saw no improvement in Manny's condition.
Sunday again brought no relief, and we decided we couldn't wait any longer. The vet we normally visited with Manny was not open. We were desperate, and had no idea where to go. We prayed, and specifically asked God for guidance. I did some quick Googling, we read a few reviews, and we decided to take Manny to an emergency vet located in Novi, MI, about 10 miles to our north. We had no prior experience with this vet. We knew no one who had ever used them.
We arrived at this new place, and, after waiting a few minutes, a woman – the vet equivalent of a nurse – came out and asked us to bring Manny into an interior waiting area. I carried Manny into the room, and sat him down on an observation table. The woman asked if it was OK if she picked him up. I told her that was fine, and I pointed out the area that we thought was troubling him.
This woman – whom we had known for maybe 60 seconds at that point ­– then said, "Would you mind if I prayed for your dog?" My former girlfriend and I looked at each other with a combination of wonder and surprise, and I said, "By all means, please do!"
The woman then prayed for Manny. She rubbed his injured area as she prayed. She held and hugged him for a few seconds after she was done, her eyes closed. She had a look of transcendent peace on her face. She then carefully sat Manny down on the floor. At which point he begin walking around completely normally, as if he had never been injured.
I picked Manny up, and touched his injured area. There was no reaction, other than him licking my face furiously, as he was so full of joy. I sat him back down on the floor, and he start running around the observation table. He was completely back to normal. We were all moved to tears.
Because I had so much prior experience with faith and seeing it rewarded, my reaction was one of incredible joy, of course, along with extreme surprise and absolutely no surprise, both at the same time (I know, that makes no sense, but I don't know how else to say it). I remember thinking, "I KNEW you were going to show up. And you did. For this woman – who we didn't know at all, and who knew absolutely nothing about us – to instantly ask if she could pray for my dog? Are you KIDDING me? You are SO faithful to those who have faith. Thank you. Thank you. THANK YOU!"
The woman then insisted we leave before the vet came in. I said, "I don't feel right about doing that. We need to compensate you somehow." She insisted, saying, "I didn't heal your dog; God did. Just go, and give Him all the thanks and all the glory."
I have many other, similar experiences I could share.
And when you live through a number of these instances – in which something you know is supernatural happens right in front of you – it explodes your faith.
Takeaway: We can overcome natural, physical limitations with sufficient faith.
Scriptural references:
Hebrews 11:29: "By faith the people passed through the Red Sea as on dry land; but when the Egyptians tried to do so, they were drowned."

Hebrews 11:30: "By faith the walls of Jericho fell, after the army had marched around them for seven days.

Romans 4:18-21: "Against all hope, Abraham in hope believed and so became the father of many nations, just as it had been said to him, "So shall your offspring be." Without weakening in his faith, he faced the fact that his body was as good as dead—since he was about a hundred years old—and that Sarah's womb was also dead.  Yet he did not waver through unbelief regarding the promise of God, but was strengthened in his faith and gave glory to God, being fully persuaded that God had power to do what he had promised."
Hebrews 11:32-35: "I do not have time to tell about Gideon, Barak, Samson and Jephthah, about David and Samuel and the prophets, who through faith conquered kingdoms, administered justice, and gained what was promised; who shut the mouths of lions, quenched the fury of the flames, and escaped the edge of the sword; whose weakness was turned to strength; and who became powerful in battle and routed foreign armies.  Women received back their dead, raised to life again."
Parting an ocean, collapsing the walls of a castle, becoming the father of many nations when you and your spouse are decades past childbearing age, conquering kingdoms, shutting the mouths of lions, quenching flames, escaping swords, routing armies, and receiving back the dead…that's quite a list of inexplicable accomplishments, all the direct result of having faith.
Much like my prior story about Manny, I have a number of experiences in which something extraordinary happened that absolutely defied normal, secular explanation. In time, I will write about all of these things in detail:
Being rejected at the only college to which I applied (Michigan State), and then having a high school guidance counselor – who, to this day, I never met or had any interaction with ­– go to bat for me and convince them to reverse their decision.
I once had to obtain a large amount of money quickly. Relating specifically to that, having my home appraise at an insanely high value, which then positioned me to have access to a significant amount of capital (2.4 times more than I originally requested or thought I could obtain). Having access to those additional funds turned that situation from potentially terrifying and or financially catastrophic into something much more manageable.
At the very worst part of the housing crisis in 2008-2009, when my once significant nest egg had been reduced to basically nothing (I own a real estate company, which had been bleeding cash for several years in a row) and I was staring financial calamity directly in the face, I wrote a letter to the pastor of my church (Brad Powell of NorthRidge Church) in which I told him the specifics of my situation (here is a letter he then sent, all the way back in 2008, almost exactly 11 years ago today, to the 25,000 members of my church in which he quoted the letter I sent him). I concluded that letter by saying that, in spite of the direness of my situation, and in spite of how close I was to complete collapse, I remained steadfast in my faith, and I knew that, somehow, some way, God would make a way for me out of that mess. Shortly thereafter, I had the two largest sales of my real estate career, and I was able to narrowly avert financial disaster. My company still exists today, and it has done well since.
I have many, many more stories of faith rewarded, which I will share in due time.
When you live through enough of these, your faith grows to the level where it actually becomes somewhat easy to begin to trust your faith more than what you see through your human eyes.
You begin to believe in the impossible…because you have seen the impossible play out right in front of you, within the context of your own life.
And the Bible confirms that:
John 14:12: "Very truly I tell you, whoever believes in me (Jesus) will do the works I have been doing, and they will do even greater things than these…"
Matthew 17:20: "Truly I tell you, if you have faith as small as a mustard seed, you can say to this mountain, 'Move from here to there,' and it will move. Nothing will be impossible for you."
The scriptures I cite are explicit in terms of stating that faith can accomplish absolutely anything.
I believe that unequivocally.
CONCLUDING THOUGHTS
I have three concluding thoughts with which I'd like to leave you:
First, please allow me to be clear: God does NOT exist to serve us.
He's not some cosmic vending machine that exists to dispense whatever we want whenever we want it.
And, very often, God does not give us what we want, for a whole slew of legitimate reasons: to help us grow and mature, to discipline us and teach us lessons, because He has something far better in store for us, because the timing may not be right, etc.
But, to position ourselves to potentially receive what it is we're hoping for and to maximize our chances for receiving it, it's crucial to have faith, to understand faith, and to know what the Bible says about faith.
There is much more to the Christian experience, but faith is where it all begins.
Second, if you're not a believer, then all of this is complete gibberish.
My faith, and the entire idea of faith, must appear laughable to you.
As with just about any and every topic you can think of, the Bible talks about that specifically, in terms of the gap between the secular and the spiritual, and man's views vs. God's perspective:
1 Corinthians 1:18 – "For the message of the cross is foolishness to those who are perishing, but to us who are being saved it is the power of God."

1 Corinthians 1:23 – "… but we preach Christ crucified: a stumbling block to Jews and foolishness to Gentiles…"

1 Corinthians 1:25 – "For the foolishness of God is wiser than human wisdom, and the weakness of God is stronger than human strength."

1 Corinthians 2:14 – "The person without the Spirit does not accept the things that come from the Spirit of God but considers them foolishness, and cannot understand them because they are discerned only through the Spirit."

1 Corinthians 3:19 – "For the wisdom of this world is foolishness in God's sight. As it is written: "He catches the wise in their craftiness"…"

1 Corinthians 2:9-10: "However, as it is written: "What no eye has seen, what no ear has heard, and what no human mind has conceived"— the things God has prepared for those who love him — these are the things God has revealed to us by his Spirit."
If the Spirit of God is not living in you, then you lack the capacity to perceive any of this.
If your mind and heart are closed, then you won't be open to much of anything I've shared in this post.
I am totally cool with that. I am not trying to win over the unwinnable.
To be clear, that's not to suggest that I don't care about people; all I am saying is that God wins over the unwinnable, not me.
I'm simply trying to be obedient to God in terms of sharing my perspective and my experiences, and letting Him handle the rest.
Third and finally, I believe – no, I KNOW – there are countless people out there – maybe even you – who have always intuitively understood many of the things of God.
Primarily, the reality of God.
You've felt his presence.
You've seen glimpses of His power.
You've just never been properly exposed to the totality of the Christian experience.
You've never had the opportunity to learn about such things.
Maybe, just maybe, this will spark something inside you to make a move in that direction.
This is where it all starts: with faith…