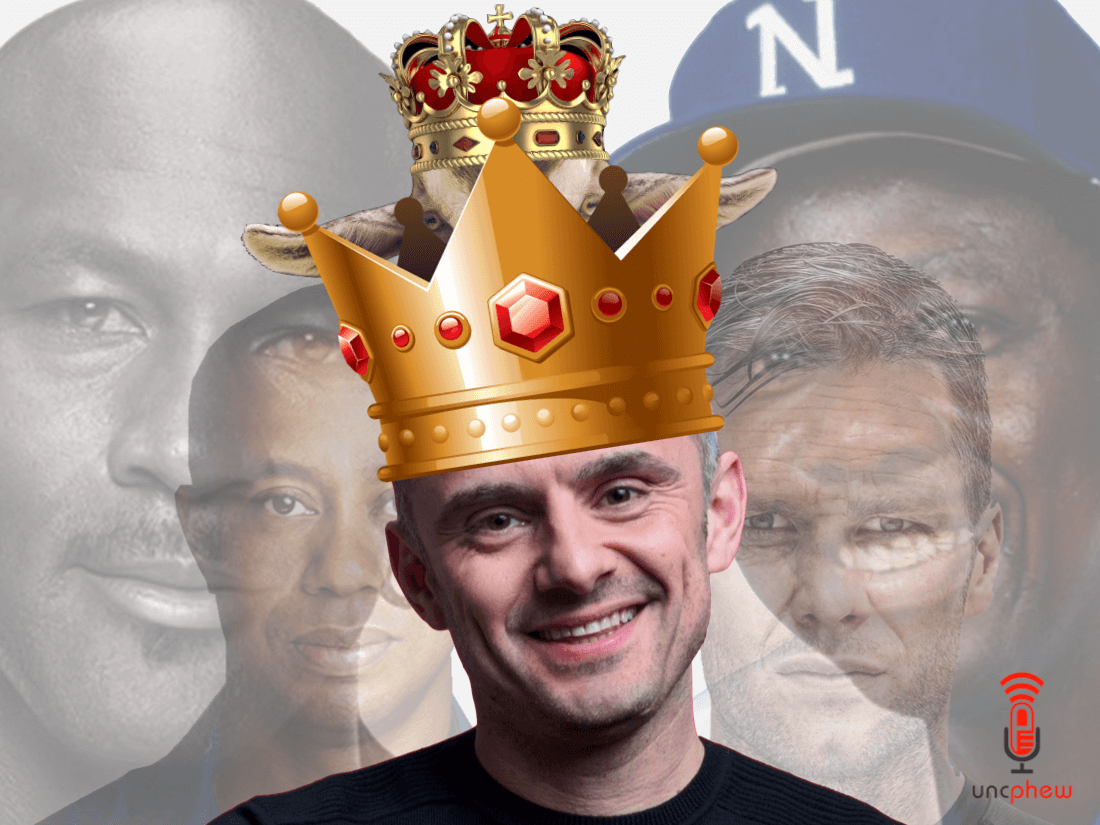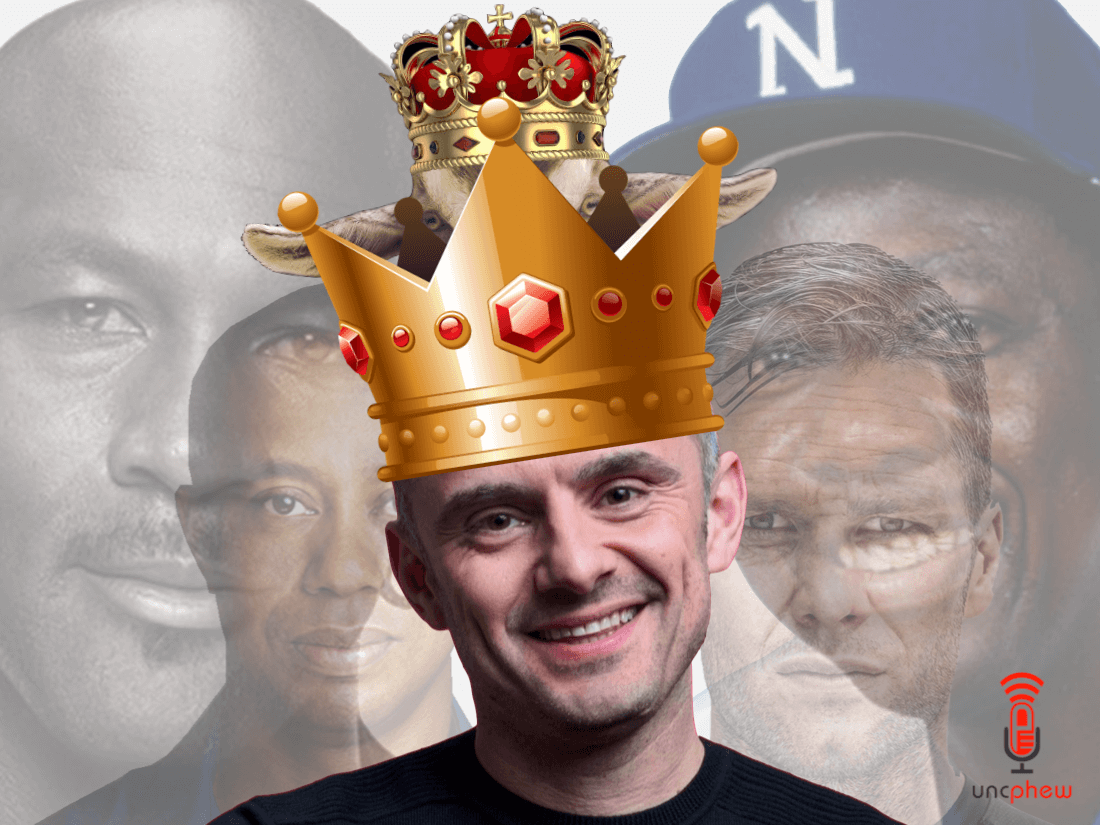 EP21: The Greatest GOAT
We all have our opinions regarding who the GOAT – "the greatest of all time" – is in a given niche or category. But who is the "greatest of all time" of the "greatests of all time?" In this post, I share my answer to that question…
People love to debate "the GOAT"
People love to debate the question of who the "greatest of all time" is within a given context.
In fact, that discussion has become so common and so popular that a term has arisen within the vernacular to specifically identify the greatest of all time within a particular category: GOAT.
Here's how Merriam-Webster defines it:
GOAT
abbreviation or noun
\ ˈgōt  \
variants: or less commonly G.O.A.T.
plural GOATs also G.O.A.T.s
Definition of GOAT (Entry 2 of 2)                       
: the greatest of all time : the most accomplished and successful individual in the history of a particular sport or category of performance or activity
Commonly acknowledged GOATs
In football, I think most people would say Tom Brady is the GOAT, with his unprecedented six-wins-in-nine-trips to the Super Bowl. The only other person in that conversation is Joe Montana, who won an NCAA Championship at Notre Dame (whereas Brady wasn't even a consistent starter at Michigan), along with four-rings-in-four-tries in terms of Super Bowls.
In basketball, it's either LeBron, with his three rings, his nine trips to the NBA Finals, and his assorted other impressive accomplishments, or Michael Jordan, with his six-titles-in-six trips to the Finals, along with perhaps the most cold-blooded/step-on-your-throat-and-cut-out-your-heart, legendary competitive streak in the history of sport. Who actually made teammates cry in practice? MJ. That's who.
In baseball, it's not as clear-cut, with many players legitimately vying for the crown of GOAT: Babe Ruth, Willie Mays, Barry "Asterisk" Bonds, Ted Williams, Hank "A-A-Ron" Aaron, and many others. I don't think there's a clear consensus there.
In hockey, it's probably Wayne Gretzky, with his four Stanley Cups and his incredible litany of scoring records, or Gordie Howe, whose toughness and physical presence – who can forget the "Gordie Howe hat trick" – potentially making up for the gap between his scoring record and Gretzky's.
In golf, it's either Jack or Tiger.
Boxing is a bit like baseball, with a number of solid contenders vying for the title of GOAT: Sugar Ray Robinson, Henry Armstrong, Joe Louis, Sugar Ray Leonard (so many Sugar Rays, so little time), and others.
All that said, that naturally leads to this question: who is the greatest GOAT of all time?
Mirror, mirror on the wall, who's the greatest GOAT of all
I would argue that the name of the greatest of the GOATs has yet to appear in this post.
I don't think it's Jordan.
I don't think it's Brady.
I don't think it's Jack, or Tiger, or Gretzky, or The Babe, or either of the Sugar Rays.
Going a step further, the person who I believe is the greatest of the greatest of time isn't even an athlete.
Lest you think I misled you, go back and re-read the definition of GOAT:
"The most accomplished and successful individual in the history of a particular sport or category of performance or activity."
Ergo, this discussion need not – and should not – be limited to just the world of sports, but should also encompass every genre or context in which "performance" is a thing.
My choice: Gary Vee
That clarification having been made, I believe the greatest GOAT is Gary Vaynerchuk.
And the category is "the internet," or "online presence." Whichever makes more sense for you.
If you don't know who Gary V. is, here's how his Wikipedia page introduces him:
Gary Vaynerchuk (born Gennady Vaynerchuk; November 14, 1975; Belarusian: Генадзь Вайнярчук, Russian: Геннадий Вайнерчук) is a Belarusian American entrepreneur, New York Times best selling author, speaker and internet personality. First known as a wine critic who expanded his family's wine business, Vaynerchuk is best known for his work in digital marketing and social media as the chairman of New York-based communications company, VaynerX, and as CEO of VaynerX subsidiary, VaynerMedia.
All that said, here are the specific reasons why I believe GV is top GOAT:
Longevity – Gary V. has been in the public eye in one form or another since 2006, when he launched Wine Library TV. He's been so prominent for so long I cannot remember life online without him. If it feels like he's been around forever, and, well, that's because he sort of has. That's 25 years in the game. And the scary part is that, in many respects, it feels as if Gary is just getting started. Making that even more impressive is that fact that every pro athlete has an off-season, when they can rest and recharge and get ready for the next season. GV doesn't. There is no "season" on the web.
Consistency – If there is a more consistent presence on the web, I have no idea who it is. I can't go on Facebook or Instagram without seeing some new piece of content from GV. He feels as constant and as consistent as the rising of the sun in the east and its setting in the west.
Passion – GV's passion is so obvious. The guy never mails it in. He never looks like he's having a down day or an off day, or that he'd rather be on a golf course or a basketball court. His passion feels so real, so unscripted and so organic. Because I think it really is.
Authenticity – Continuing, nothing about Gary feels fake or engineered or "modified" to fit a particular audience or a specific purpose. I have watched hundreds of hours of his content over the years, and the dude has never waivered ONE INCH from being the same guy I saw a decade ago to who he was two years ago, to who he was yesterday, to who I am certain he'll be in five years. He's the realest of the real.
Work ethic – Gary's drive doesn't seem human. I have known some driven people. Hell, I am exceptionally driven. But I've never seen anyone just keep grinding and crushing like he does, on the level that he does it, day after day, week after week, month after month, and year after year. Seriously, if anyone on this planet is an alien, it's him. Gary, serious question: do you EVER sleep?
Quantity ­– The sheer VOLUME of the content Gary puts out is superhuman. Follow him on Facebook or IG and you will see. It's staggering. I keep thinking he's going to run out of valuable stuff to say and do. I've been thinking that for at least five years. And he just keeps cranking content out, like clockwork.
Quality – Sure, GV has achieved a level of success that affords him the luxury of being able to bankroll a very talented and capable crew of professionals filming, editing and producing almost everything he does, but he still has to do the heaviest of the heavy lifting: creating something worthy of filming, editing and producing. And nobody has ever done that as well as Gary does. The vast majority of what he puts out is top-notch, prime, Grade A content.
His own man – Much like how his authenticity is so obvious, so too is it glaringly apparent that Gary V. is his own man, and beholden to no one. He simply doesn't care if you agree with him or not. His views are his views, and his opinions are his opinions. Period. In a world full of ass-kissing and sugar-coating and being hyper-focused on not offending anyone, GV is who he is, and he also doesn't seem to care one iota if you like him or not. And I love him for that.
He cares – One of the biggest things that makes GV special is the fact that he seems to genuinely care about people. One of the negative personality traits often associated with type AAA personality mega-achievers (and I've known a few) is that they tend to be so focused on goals and production and their own agendas that they tend to come off as insensitive and uncaring. Obviously, I don't know Gary personally, but, from a distance, he appears to be a genuinely kind and caring person. That he speaks the truth to people (as opposed to telling them what they want to hear, or not saying anything to avoid conflict), even when it may hurt, also must come from a place of true concern for the well being of others.
Pure intellectual horsepower – One area where I don't think Gary gets enough credit: his sheer intellectual prowess. The dude is a genius, period. And he has a level of wisdom that is so beyond his years (he's only 43!). I have learned so much from GV's insights and perspectives on so many things.
An original – There is only one Gary V. Since his rise to prominence, a lot of people have entered the space in which he moves and operates. I could name names, but I won't, in terms of those who kinda/sorta created a name for themselves using a Gary V.-esque sort of approach. But none of them can touch Gary. He is an original, and there will never be another truly like him.
Vision – Gary V. has his finger on the pulse of the culture like few people ever have. He sees things before most people do. He feels trends coming and going and morphing and iterating on a level most of us cannot fathom.
Integrity – One of my favorite aspects of Gary's personality: he's honest. I love it when he talked about passing on investing in Uber, which, per one estimate I saw, would have been worth $3.3 billion at one point. That makes him so credible in my eyes.
Multiple contexts – GV reminds me of the universe: he just never stops expanding. To give you some sense of just how many things he's done, and how many different ventures he has been, or is still, a part of, I copied and pasted this from Vaynerchuk's Wikipedia page:
Vaynerchuk's career spans retail, marketing, and investing.
Wine Library
After graduating from college in 1998, Vaynerchuk assumed day-to-day control of
his father's Springfield, New Jersey store, Shopper's Discount Liquors. Gary renamed the store to Wine Library, launched sales online and in 2006 started Wine Library TV, a daily webcast covering wine.
Through e-commerce and pricing strategies, Vaynerchuk grew the business from $3 million a year to $60 million a year by 2003. In August 2011, Vaynerchuk announced he would be stepping away from the family business to build VaynerMedia, the digital ad agency he co-founded with his brother in 2009.
VaynerX
Vaynerchuk is the chairman of VaynerX, a communications company that holds media properties, technology companies, and a social-media agency.
VaynerMedia
In 2009, Gary, along with his brother AJ Vaynerchuk, founded VaynerMedia, a social media–focused digital agency. The company provides social media and strategy services to Fortune 500 companies such as General Electric, Anheuser-Busch, Mondelez, and PepsiCo. In 2015, VaynerMedia was named one of AdAge's A-List agencies. With 600 employees in 2016, VaynerMedia grossed $100 million in revenue. The company also partnered with Vimeo to connect brands and filmmakers for digital content.
Gallery Media Group
In 2017, The Wall Street Journal reported that Vaynerchuk formed The Gallery, later named Gallery Media Group, a VaynerX subsidiary company that houses PureWow, following its acquisition by Vaynerchuk and RSE Ventures, male-oriented news outlet ONE37pm.com, and other media properties. Ryan Harwood, formerly the CEO of PureWow, leads Gallery Media Group. A sister company to digital agency, VaynerMedia, Marketing Dive wrote that "joining forces with VaynerMedia grants access to increased video capabilities given the in-house teams and resources."
Planet of the Apps
 In February 2017, Apple and Propagate announced the launch of Planet of the Apps, a reality television series with a recurring cast that includes Vaynerchuk, will.i.am and Gwyneth Paltrow. Described as Shark Tank meets American Idol, in the show Vaynerchuk and team evaluate pitches from app developers vying for investment. The series cast joined with Product Hunt for a tour to Austin, San Francisco, Los Angeles and New York.
DailyVee
DailyVee is a daily, video-documentary series on YouTube that chronicles Vaynerchuk's life as a businessman. Started in 2015, Vaynerchuk records live, interviewing others and broadcasting investor meetings and strategy sessions at VaynerMedia. In the series Vaynerchuk implements social media strategies, especially through Snapchat to demonstrate social-media marketing.
 The #AskGaryVee Show
 In 2014, Vaynerchuk launched The #AskGaryVee Show on YouTube with his personal content-production team. In the show, Vaynerchuk canvases questions from Twitter and Instagram and responds in a signature, extemporaneous manner. Show questions, most commonly on entrepreneurship, family and business topics, are pre-screened by the production team but remain unseen by Vaynerchuk until each show's taping. The AskGaryVee Show inspired Vaynerchuk's fourth book, AskGaryVee: One Entrepreneur's Take on Leadership, Social Media, and Self-Awareness.
Wine Library TV
 Vaynerchuk hosted a video blog on YouTube called Wine Library TV (WLTV or The Thunder Show) from 2006 to 2011, featuring wine reviews, tastings, and wine advice. The show debuted in February 2006 and was produced daily at the Wine Library store in Springfield, New Jersey. Vaynerchuk appeared on the cover of the December 2008 issue of Mutineer Magazine, launching the "Mutineer Interview" series. Celebrity guests included Jancis Robinson, Heidi Barrett, Kevin Rose, Timothy Ferriss, Jim Cramer of CNBC's Mad Money, Wayne Gretzky, and Dick Vermeil.
At 1,000 episodes in 2011 Vaynerchuk retired the show and replaced it with a video podcast, The Daily Grape. In August 2011, Vaynerchuk announced on Daily Grape that he was retiring from wine video blogging.
Wine & Web
In 2010, Vaynerchuk launched Wine & Web on Sirius XM satellite radio. The show's programming paired new wine tastings in a "Wine of the Week" segment with coverage of gadgets, trends and startups in its "Web of the Week" segment.
And if all that wasn't enough, oh, yeah, he's written these books:
Crushing It! How Great Entrepreneurs Build Their Business and Influence—and How You Can, Too (2018) ISBN 0062674692
#AskGaryVee: One Entrepreneur's Take on Leadership, Social Media, and Self-Awareness Hardcover (2016) ISBN 0062273124
Jab, Jab, Jab Right Hook (2013) ISBN 1594868824
The Thank You Economy (2011) ISBN 0061914185
Crush It!: Why NOW Is the Time to Cash In on Your Passion (2009) ISBN 0061914177
Gary Vaynerchuk's 101 Wines: Guaranteed to Inspire, Delight, and Bring Thunder to Your World (2008) ISBN 1594868824
That is incredible.
I got tired just reading that list.
The final reason…
All THAT said, and as a final comment, consider the last reason why I believe Gary is the greatest of the GOATs: competition.
Has ANY context EVER been more competitive than "the internet?"
I would argue that the internet is the biggest and most competitive category/genre of all, because it is so enormous and so vast, it covers every conceivable topic and interest, and because literally anyone can participate and become a direct competitor.
GV: the GOAT's GOAT
Anyone could have become "Gary V." before he did.
But he was the first.
They could have come from any point of origin.
GV came from the wine industry originally, but any person could have leveraged virtually any topic, interest or category to rise to the same, or an even greater, level of prominence online.
But only Gary did.
What makes Gary V. Gary V. is a unique combination of talent, drive, ambition, IQ, EQ, work ethic and a keen sense of cultural shift and direction that I would argue the world had never seen before.
And that's why, in our humble opinion, Gary Vaynerchuk is the greatest of the greatest of all time.
Keep crushing, GV.
You are the TRUE GOAT!