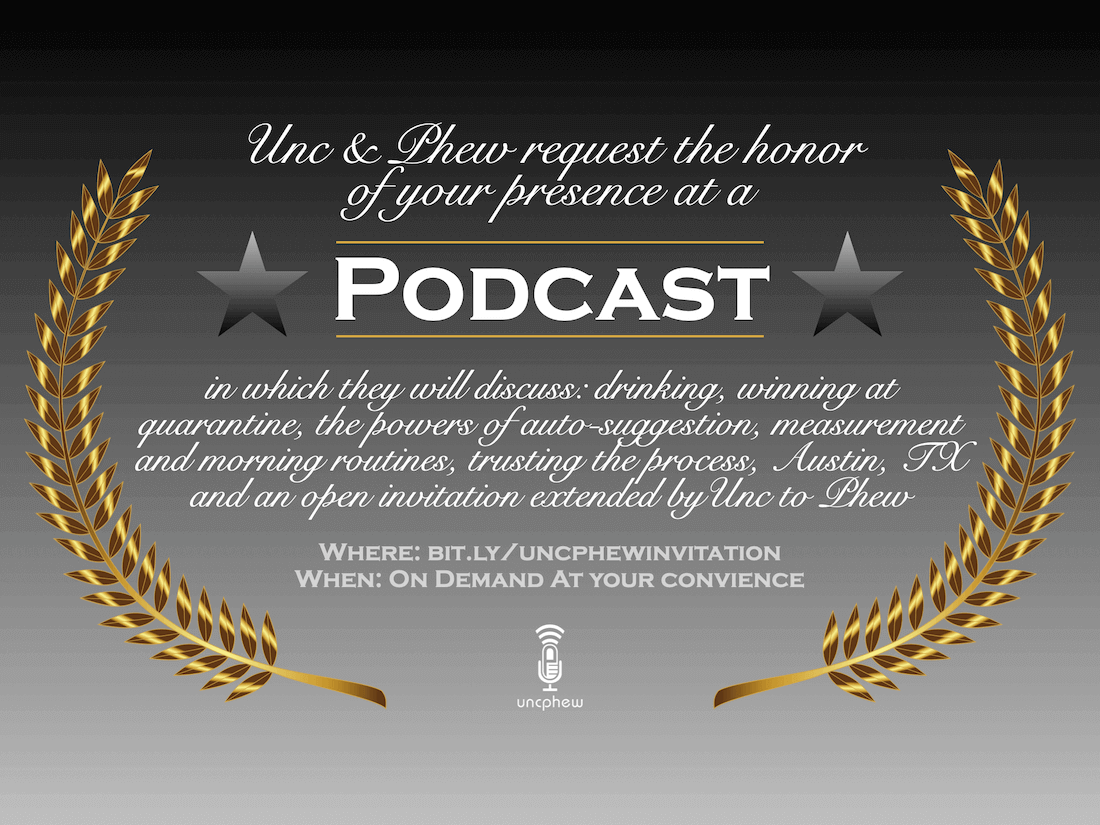 You've Got an Open Invitation
The guys discuss drinking, winning at quarantine, happiness, morning routines, the power of measurement and morning routines, Austin, TX, trusting the process and the open invitation that Unc extended to Phew. Listen now!
Bourbon vs tequila
Strange reaction to tequila
Unc is an actual Maker's Mark Ambassador
But if he drinks just a little too much?
Can drink an infinite amount of tequila
Phew's level of drinking have tapered off
Basque Country Cider
Phew's favorite: Basque Country Spanish Cider
A brief history of this drink
Very expensive, but worth every penny
Almost impossible to find
Phew's dad loves bad beer
Traverse City Whiskey
Barrel-proof bourbon whiskey with Morrissey cherries
Barrel-proof rye
Limited edition bourbon whiskey finished in port barrels
How the human body reacts to serious injury
Unc has been seriously injured twice: skiing accident, and motorcycle accident
Low power mode
Almost stop thinking completely
No TV, no music, just curled up in fetal position
Phew has curtailed his consumption
The weirdness of tequila
Agave, turns into sugar into your system quickly
It's an upper, not a downer
In the family of mescaline, etc.
The connections between psychedelics and tequila
Unc has become an amazing chef
Lived with a professional chef for 20 years, and learned nothing from her
Makes a great meal every night
Starts drinking around 5 PM
Having a great time playing games with his 87 year old mother
Winning at quarantine
Cooking shows and training have become super popular during the lockdown
Phew's parents do the same thing
Unc has really come to appreciate the simple things in life
Savoring every single day
Wrote a blog post about the experience of having his mom move into his house
Advantages of age and experience
Time in this life is so limited
Being thankful and having mega gratitude
Every day without a major negative is a phenomenal day
Adjusting perspective, and no longer taking drama-free days for granted
Abraham Lincoln: Most people are about as happy as they want to be
Unc's morning routine
Things he does every day to adjust his attitude and perspective, because he knows he needs that
Tim Ferriss' Tools of Titans
All of Unc's morning routine has ties back to that one book
Morning pages: "like spiritual windshield wipers"
Meditative practice the number-one most common thing mentioned by those Ferriss interviewed
Auto-suggestion
Using auto-suggestion to reprogram yourself
Napoleon Hill talked about this
There is definitely something to the that process, in which words become things
You shouldn't look AT obstacles; you should look at the ways to get AROUND them
The power of measurement
Tim Ferriss' The 4-Hour Body
Guy who did nothing but track his weight for a year, but made no other changes
Charles Duhigg talks about this in his book Smarter Faster Better
If you interrupt or record information, it causes changes in your brain you don't even notice
It's amazing how many times those auto-suggestion things actually become reality
The best to effect change – in any area of your life – is to measure it
Unc's number one discipline he's developed over the years
3M 2 foot by 3 foot wall Post-it
Monthly checklist
Every single day
Because it's on the wall, you can't get it away from it
Phew is in awe of Unc's discipline and consistency
James Altucher
Tony Robbins: It's not what you can do, it's what you can do consistently
If you can get 1% better every day, you'll be more than 3x better in just a year
You'll be more than 10x better in under three years
Trust the process
Added benefit: when you reach a certain level of discipline and consistency, you have less stress
From experience, you know you can trust your process
When you can look at the wall and see that you have been putting in the time, you know, ultimately, that will produce results
Jordan Harbinger: quantity has a quality all its own
Do the most important things first
Sharing ideas with the world
Altucher credits recovering from financial ruin to writing 10 new ideas every day
He would then share his ideas with whomever he thought would benefit from the idea
Reaching out to people who you don't think will reply
The most beautiful girl gets the fewest invitations for dates: men don't try, because they lack confidence
Saying yes vs saying no
Two schools of thought here
Going deep vs going wide
Buffet and Gates: Focus is the number one thing that has made them successful
Unc's open invitation to Phew
Lots of change and chaos in Phew's life
Unc trying to become a better person
Phew feels #blessed
Unc was so direct
So hard to know what the world is going to be like in six months
Austin, TX
Austin is a great town; Unc loves it, except for the climate
Think they just defunded the police in Austin
Joe Rogan was just talking about this on his podcast with Ron White
Rogan is in Austin now
Texas appears to be the number one landing place for the exodus out of California
More discussion about drinking
Unc had a great time every time he went to Austin
Phew had mezcal for the first time
People really, truly enjoying life
Austin is also a fitness mecca
What health club you belong to is a real status thing
CATCH UP ON OTHER UNCPHEW PODCASTS IN THE PLAYER BELOW!