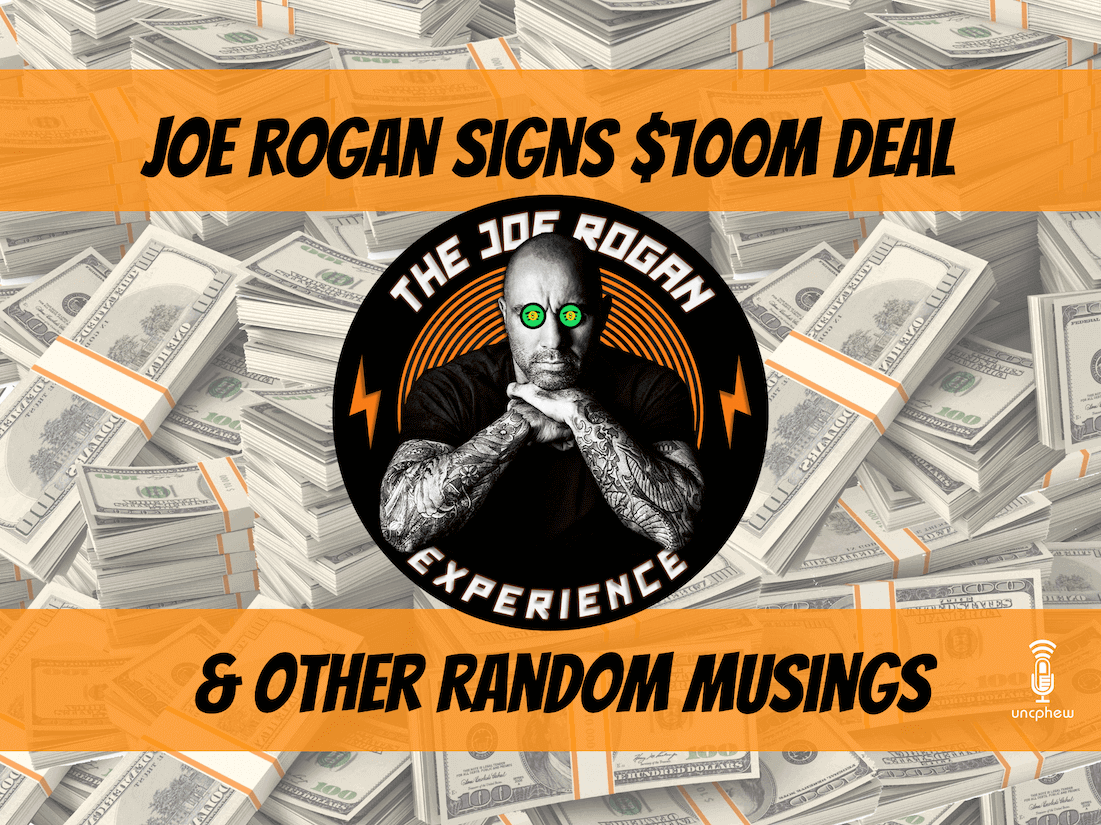 EP38: Joe Rogan Signs $100M Deal & Other Random Musings
Unc and Phew intended to talk about "romance in the era of COVID-19," but they never got there as they instead talked about a whole slew of other random things, including Shubas Tavern in Chicago, terrible roommate stories, the power of saying "no," flaws in today's educational system, and Joe Rogan's $100 million deal with Spotify. Enjoy!
Memories of Schubas in Chicago
Horrible roommates
Horrible drug dealing roommate
Work Drinking Drinking Work podcast
Interesting roommates at Michigan State University
The grocery bag o' panties
Impossible to shut down
Bill Beteet's Frame Control Master Class is doing really well
Becoming conditioned to be "on" all the time
The cost of being "on" all the time
Dis-ease
The anxiety of not knowing
Don't Do Real Estate
Unc's advice: never pursue real estate
After a while, it becomes a trap
Limited shelf life of online courses
Great Advice from Steve Jobs
Steve Jobs, on what was next: "I don't know; I'm going to sit around until a billion-dollar idea comes to me"
The concept of doing nothing until you KNOW what you are going to do
The waste of resources by doing the wrong thing
The power of saying "no"
Doing the wrong thing for the right reason
Kid Rock, about the drummer in AC/DC: "The mark of a true master is knowing when not to play"
How in the hell did Google become Google so quickly?
Mark Zuckerberg: a complete alien
Failings of Our Educational System
Things that never get taught anywhere
High level business lessons learn
Seth Godin's ALT MBA Program
In order to do it, you just have to do it
Sadly, our educational system is not designed for the real world
The things that are emphasized in education today
Helicopter Parenting
The responsibility of the parents vs the responsibility of the educational process
Phew's mother complete his first college application
Helicopter parenting article in the Wall Street Journal
College grads legitimately caught in the jaws of right now
Hard Times for Home Gym Users
Joe Rogan's $100M deal with Spotify
Making the market for podcasting
John Krasinski's Some Good News YouTube channel
Traditional media is dying/committing suicide
RIP Journalism, our most popular podcast, was four years ago
Vox Media, Ezra Klein's editor: How did we get COVID-19 so wrong?
Vacuum Created by Suicidal Media
The vacuum created by corrupt media is being filled with all kinds of homemade stuff
Every company with its own media creation department
Joe Rogan has essentially solved the problem of journalism: long form conversations with experts
We're going to get to the bottom of larger issues
Anti-Sound Bite Era Upon Us?
Are we entering the era of the "anti-sound bite"
Random things I have learned from listening to Rogan
Unc taking supplements he learned about watching: Turkey Tail and Lion's Mane
The story of a flood and some cattle: Paul Stamets (see video below)
CATCH UP ON OTHER UNCPHEW PODCASTS IN THE PLAYER BELOW!