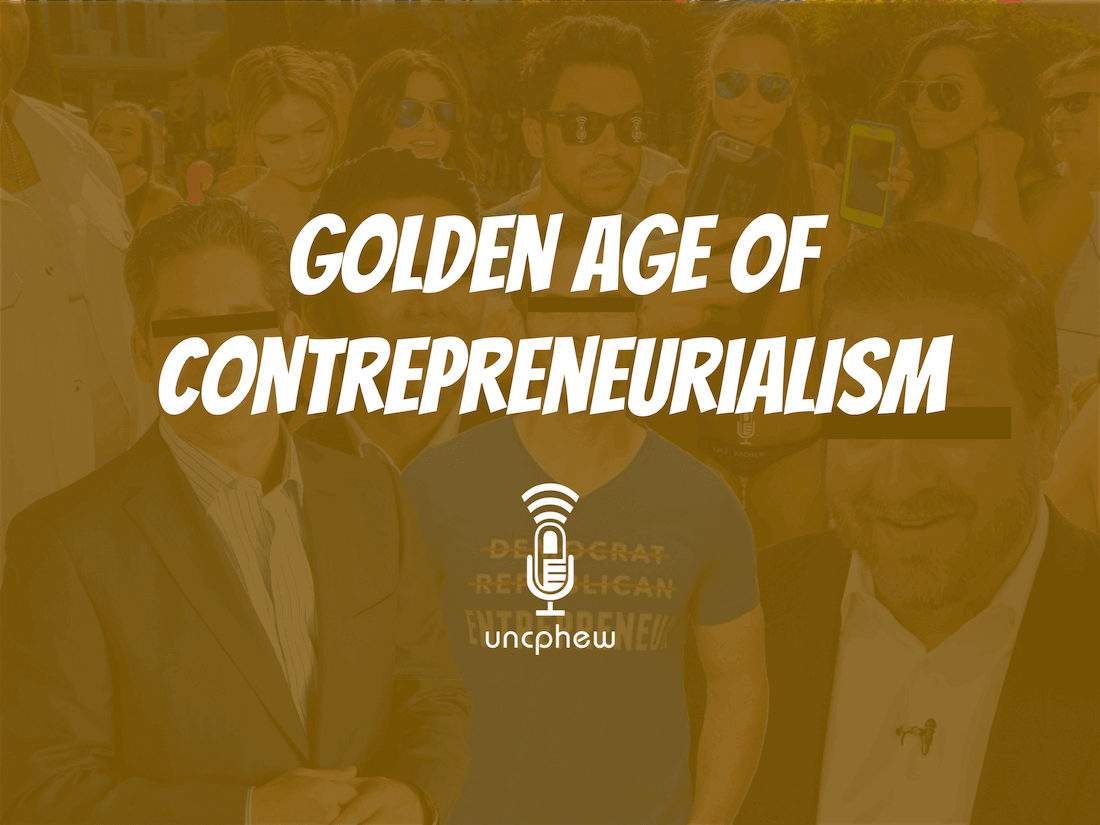 EP37: Golden Age of Contrepreneurialism
Truly, we are blessed to be living in the golden age of "contrepreneurialisim," a wonderful era in which millions are drawn to the irresistible siren songs of a veritable Murderer's Row of "let me show you how to get rich-ists." So much snake oil! So little time!
Mike Winnet's "The Contrepreneur Formula"
Shameless Self Promotion
Phew just published his third book: The Stoic Salesperson; buy on Amazon at https://amzn.to/3fIpZrS
Relating to that, the advice Phew received from a business coach
This was the coach's approach to everything
Making everything sounds so much easier than it really is
Then the marketing and upselling begins
Tai Lopez is a Complete Contrepreneur
In my garage with my Ferraris
How did my helicopter get in this picture?
"If you're in a room and you can't figure out who the sucker is, you're the sucker"
Tai Lopez, Grant Cardone, etc. all doing the same thing
Unc's Experience in the Space
Unc has sold stuff online
Nearly moved to Austin, TX to take a job there a few years ago
Acted as webinar host
Several of the webinars had in excess of 1,000 attendees
Made $50K in two hours on several different occasions
The Golden Age of Contrepreneurialsim
We've reached defcon con
Who are the ultimate snake oilers?
Phew bought Cardone's 10X book; had almost no value
All of his content has an upsell
Kevin Zhang Online Entrepreneur of the Year in 2019
Unc's San Francisco Treat
Phew: quick Google search first item referenced "cult"
EST, popular bacon the 70s
An absolutely bizarre experience in San Francisco
Psychological programming
Warren Buffett
Rules that Warren Buffet uses:
Rule one: The way to become rich is to make money, not lose it
Rule two: Never forget rule number one
Exceptions to the Rule
Frank Kern: seems like a credible guy
Not a fan of those who espouse failure as a good thing
Most people are afraid of failure, full stop
Ryan Daniel Moran also seems legit
Unc purchased the book he just published
Amazon FBA
Building a business and selling it for a multiple of 25-30X
Five years too late to that game?
People who make real money are the ones who can see where the puck is going, not where it is
James Altucher's challenge to Phew to write the book: https://youtu.be/Z-QIQQQBfN8
CATCH UP ON OTHER UNCPHEW PODCASTS IN THE PLAYER BELOW!