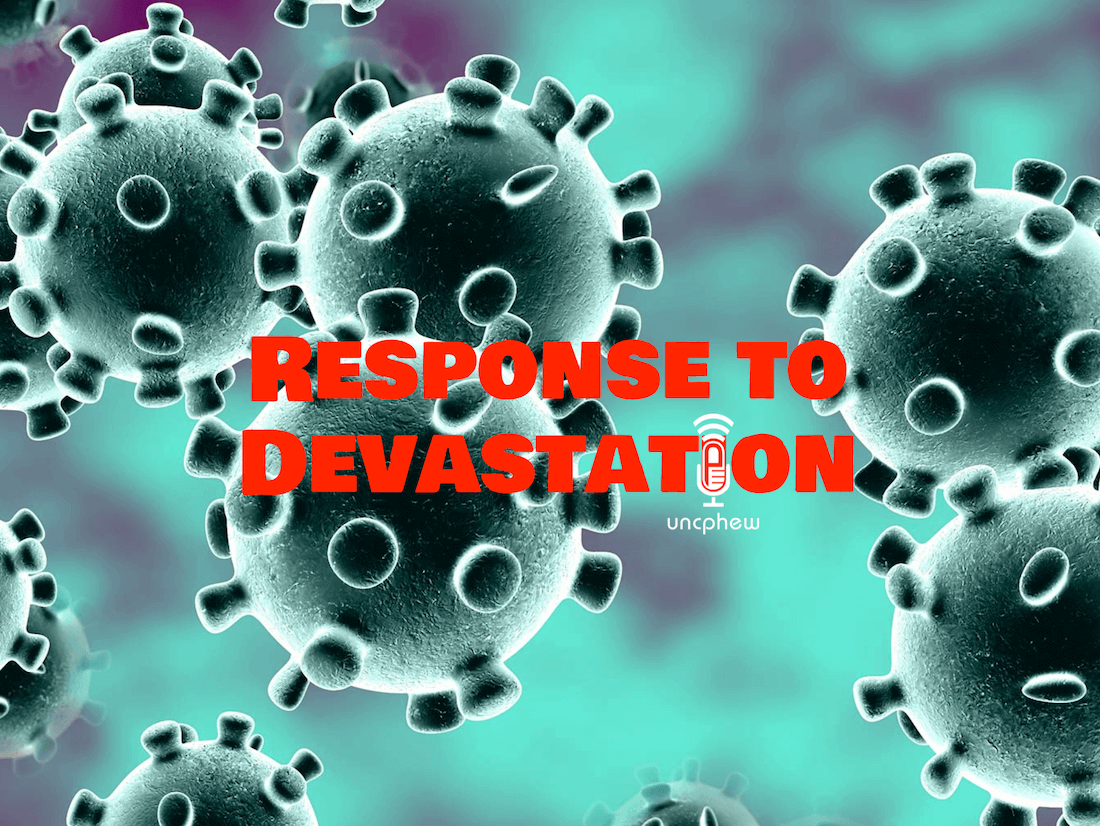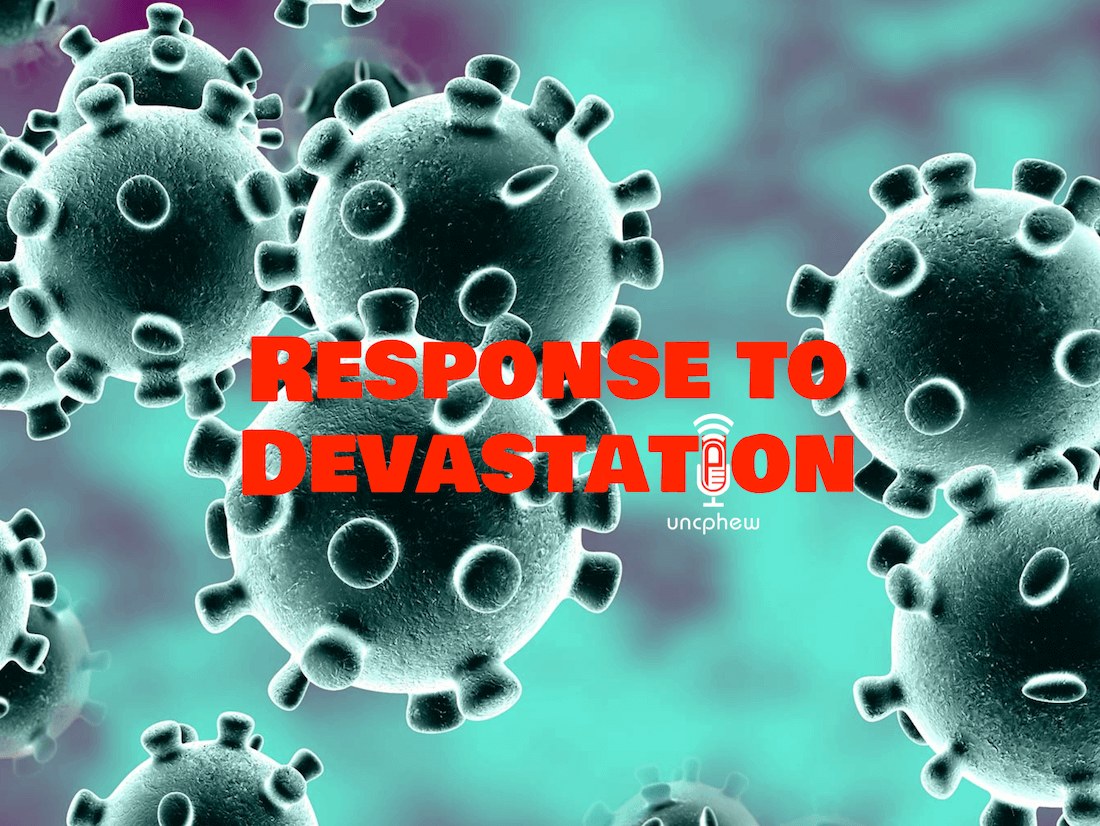 EP30: Response to Devastation
As we live through the unprecedented experience of the COVID-19 pandemic, we're all dealing with this question: What is the right response to devastation? Here are Unc's thoughts on the matter…
We're All Experiencing Devastation
In the wake of the COVID-19 pandemic, many are experiencing devastation in a variety of forms.
While a small percentage of people are dealing with the virus itself, almost everyone is dealing with the economic fallout from this unprecedented global event.
I see this devastation in the faces of small business owners who have been forced to shutter their delis, their yoga studios or their hair salons.
I see it in the body language of the employees who can read the writing on the wall and know their days of employment may be about to end – and then what?
I hear about it in the conversations I have with people in my industry – real estate – who are having transactions fall apart at the last second, in the process losing thousands, or even tens of thousands of dollars, in desperately needed income, laying to waste to the countless hours they invested in putting those deals together and in trying to keep them alive and on track, as news of the pandemic exploded across every form of media over the course of the last few weeks.
This devastation is unavoidable if you spend even a moment on Facebook, where it seems as if 90% of all the posts are virus-related.
What's the Right Response?
Given that so many of us are trying to come to grips with what's happening in the world – in our worlds – right now, that begs the question:
What is the correct response to devastation?
Of course, every one of our situations is unique.
Some have lost thousands, tens of thousands, hundreds of thousands or even millions in the stock market.
Others have lost their jobs, and don't know when they'll receive their next paycheck, or from where it will come.
Others own businesses that have gone from nicely profitable to having their revenues fall off a cliff to having to lay off employees who have been loyal for decades, going through that progression in a matter of days, and wondering if even that will be enough to stop the financial hemorrhaging.
Other have contracted the virus themselves, or know someone who has.
And still other have lost a loved one, or perhaps have even died themselves.
As a result, because we're all dealing with different levels and forms of devastation, there is no true "one size fits all" answer to that question.
As I attempted to answer that question myself, I did what I always do in such situations: I went to God's Word, and I attempted to learn and apply whatever I could  from whatever I found there.
The first thing that came to mind when I thought about trying to figure out the correct response to devastation was one of the more lurid and infamous stories of David.
This is the same David who, in his youth, killed Goliath and went on to become one of the central figures of the Old Testament.
A Biblical Example
Later in life, after David had ascended to become the King of Israel, he infamously committed adultery with a woman named Bathsheba.
Bad news: Bathsheba became pregnant with David's child.
As if that wasn't bad enough, David then had Bathsheba's husband, Uriah, killed. This is described at 2 Samuel 11:14-17. So, not only did he commit adultery, but David also effectively ordered a hit on someone as well.
Sidebar
This is a small but good example of one of the many reasons I believe in the Bible: because it is so full of stories like this, in which the "good guys" do really bad things, which lends credibility to the telling of those stories; if your goal was to spin some sort of false narrative, you probably wouldn't include details that make the heroes look bad.
That establishes the context for what we can learn from this story
Because of what David had done, God sent a random person – Nathan – to deliver a message to David, which is detailed in 2 Samuel 12.
The bottom line: Nathan told David that, because of what he had done, David had "shown utter contempt for the Lord." And, because of that, David's son was going to die.
In response to hearing this, David admitted his sin against the Lord. The son David had with Bathsheba immediately became ill. David then prayed and fasted, hoping that God would spare his son.
On the seventh day of that sickness, David's son died.
That was the devastation that David experienced in this particular story.
David's Response to Devastation
How did David respond in the face of this devastation?
Upon hearing the news that God had instructed Nathan to deliver to him, David admitted his transgression, as we see at 2 Samuel 12:13:
"Then David said to Nathan, "I have sinned against the Lord.""
David then prayed for God to avert the coming devastation, as written at 2 Samuel 12:16:
" David pleaded with God for the child. He fasted and spent the nights lying in sackcloth on the ground."
Immediately upon learning of his son's death, David did the following, as per 2 Samuel 12:20:
"Then David got up from the floor, washed himself, put lotions on, and changed his clothes. Then he went into the Lord's house to worship. After that, he went home and asked for something to eat. His servants gave him some food, and he ate."
When questioned as to why he responded that way, here is how David answered, as per 2 Samuel 12:22-23:
"David said, "While the baby was still alive, I fasted, and I cried. I thought, 'Who knows? Maybe the Lord will feel sorry for me and let the baby live.' But now that the baby is dead, why should I fast? I can't bring him back to life. Someday I will go to him, but he cannot come back to me.""
What We Can Learn
So, what can we learn from this story as it relates to the question we're attempting to answer, which again is "What is the correct response to devastation?"
Take Responsibility
First, David admitted his sin. He took responsibility for what he had done.
To be clear, we are not responsible for all the devastation we experience in life, obviously. COVID-19 is a perfect example of that.
But when bad things happen that are our fault, we should own up and take responsibility.
Pray
Second, David prayed and asked God to spare his son's life.
David knew that the power of life and death was in God's hands, as he had experienced God's presence and direct involvement and intercession in his life for many years at that point.
God had enabled David to defeat Goliath as a boy.
God had kept David alive all the years that King Saul had tried to kill him, simply because Saul was jealous of David.
And there were many other experiences David had in which God interceded on his behalf.
Because of all those experiences and the knowledge of God's power that David had accumulated as a result, after admitting fault, he prayed.
Get Up
Third, in the aftermath of the death of his son, David picked himself up and cleaned himself up.
In immediate response to devastation, David did his best to resume normalcy.
Praise God
Fourth, he "went into the Lord's house to worship."
Wait.
He did WHAT?
Yes, after praying and fasting – and, remember, David was a man who had experienced perhaps more of God's blessings, protections and benefits than anyone who had ever lived, including being the hero of one of the greatest and most well-known stories in the Bible, when, as a boy, he defeated the giant Goliath – and having his son die anyway, David's first external action was to go to church and to praise God.
After his prayers were NOT answered.
After his son had died, in spite of those prayers.
David still chose to worship God as a first response to devastation.
Fifth, David accepted his fate. He was a realist. He didn't blame anyone. He didn't curse God. He simply played the cards he was dealt. He resumed normal living and went on with his life.
Trust God
And, most important of all, he trusted God.
This is key: because of all the prior experiences David had with God, David knew God had the ability to work out everything for David's good; yes, even something as devastating as the loss of his son.
And how did all that turn out?
Shortly following that devastation, as written at 2 Samuel 12:24-25, David and Bathsheba had another son – Solomon – who went on to become one of the wisest and wealthiest men in world history.
So – while I don't mean to suggest that you can ever get over the death of a child, and children are certainly not replaceable – that God immediately acted to not only provide David another son, but a son who would go on to become one of the most well-known people in all of humanity, speaks volumes as to the generosity, faithfulness and sense of justice of God.
Yes, while it is true that God punished David severely for his disobedience, He also had mercy and compassion on David by immediately providing the incredible blessing of another son in the form of Solomon.
How We Often Respond to Devastation
As so often happens when I do this kind of analysis, I instantly recognize how often our behavior – how often my behavior –  deviates from the behavior modeled by God's people in the Bible.
When we encounter devastation, what we frequently do is:
…refuse to accept responsibility.
…don't pray for God's assistance.
…wallow in self-pity.
…lie around and become depressed.
…blame God for whatever happened.
…don't worship God.
…forget that God has the power to work out all things for our good.
In other words, very often, we do the opposite of what David did.
While that is a sobering observation, perhaps we can learn something from that.
Sometimes It's Not Our Fault…
Sometimes – exactly as in the COVID-19 situation we're dealing with at the moment – devastation just happens.
A house burns down.
Someone is diagnosed with cancer.
An innocent person is killed in a car accident.
In many cases, we are not in any way responsible for what happened, and we had no opportunity to pray to God to avert the disaster.
That's true, for sure.
…But We Can Still Model David's Post-Devastation Behavior
However, in response to devastation, we can still model David's behavior post-devastation:
…pick ourselves up and resume normalcy as best we can.
…worship and praise God, in spite of the devastation.
…accept our fate, and simply move forward.
…trust God that, somehow, some way, He will work out whatever we are experiencing for our good.
Why David's Response is Realistic and Reasonable
You may be thinking, "That's not reasonable or realistic. That's simply not real life."
From a purely secular perspective, I completely understand and agree.
But from a spiritual, Christian perspective, I respectfully disagree.
Why? Because I know these things to be true:
With God's assistance, I can handle literally anything life throws my way…
Philippians 4:12-13: "I know what it is to be in need, and I know what it is to have plenty. I have learned the secret of being content in any and every situation, whether well fed or hungry, whether living in plenty or in want. I can do everything through him who gives me strength."
I can experience peace, no matter what my circumstances…
Philippians 4:6-7: "Do not be anxious about anything, but in everything, by prayer and petition, with thanksgiving, present your request to God. And the peace of God, which transcends all understanding, will guard your hearts and your minds in Christ Jesus."
I never need to worry; if I seek God first in my life, He will provide for my every need…
Matthew 6:25-33: "Therefore I tell you, do not worry about your life, what you will eat or drink; or about your body, what you wear… So do not worry, saying, "What shall we eat?" Or "What shall we drink?"  Or "What shall we wear?" for the pagans run after all these things, and your heavenly Father knows that you need them.  But seek first his kingdom and his righteousness, and all these things will be given to you as well. Therefore do not worry about tomorrow, for tomorrow will worry about itself.  Each day has enough trouble of its own."
God will deliver me from every trouble…
Psalm 34:19: "A righteous man may have many troubles, but the Lord delivers him from them all."
Facing hardships actually allows me to grow and become better…
James 1:2-4: "Consider it pure joy, my brothers and sisters, whenever you face trials of many kinds, because you know that the testing of your faith produces perseverance. Let perseverance finish its work so that you may be mature and complete, not lacking anything."
I can survive in situations where others may not, simply because I trust God…
Jeremiah 17:7-8: "But blessed is the one who trusts in the Lord, whose confidence is in him. They will be like a tree planted by the water that sends out its roots by the stream. It does not fear when heat comes; its leaves are always green. It has no worries in a year of drought and never fails to bear fruit."
God can work out all things – even devastation – for my good…
Romans 8:28: "And we know that in all things God works for the good of those who love him, who have been called according to his purpose."
Those are the same reasons David was able to react the way that he did, in response to the devastation of his son being taken from him.
Do you respond to devastation like David did, or like most of the secular world is doing in response to COVID-19?
As I, like you, struggle to deal with this unprecedented pandemic and the havoc it is wreaking in almost every aspect of our lives, I can choose to be more David-like in my response to devastation.
So can you…
PS – How thorough and complete is the Bible in terms of addressing virtually every situation, challenge or problem we may face in this life? It even addresses pandemics like COVID-19! Here are some excerpts from Psalm 91 that clearly state that God can protect you from such threats (emphasis added):
Psalm 91:3: "Surely he will save you from the fowler's snare and from the deadly pestilence."
Psalm 91:5-7: "You will not fear the terror of night, nor the arrow that flies by day, nor the pestilence that stalks in the darkness, nor the plague that destroys at midday. A thousand may fall at your side, ten thousand at your right hand, but it will not come near you."
Psalm 91:9-10: "If you say, "The Lord is my refuge," and you make the Most High your dwelling, no harm will overtake you, no disaster will come near your tent."
Brad Powell  NorthRidge Church