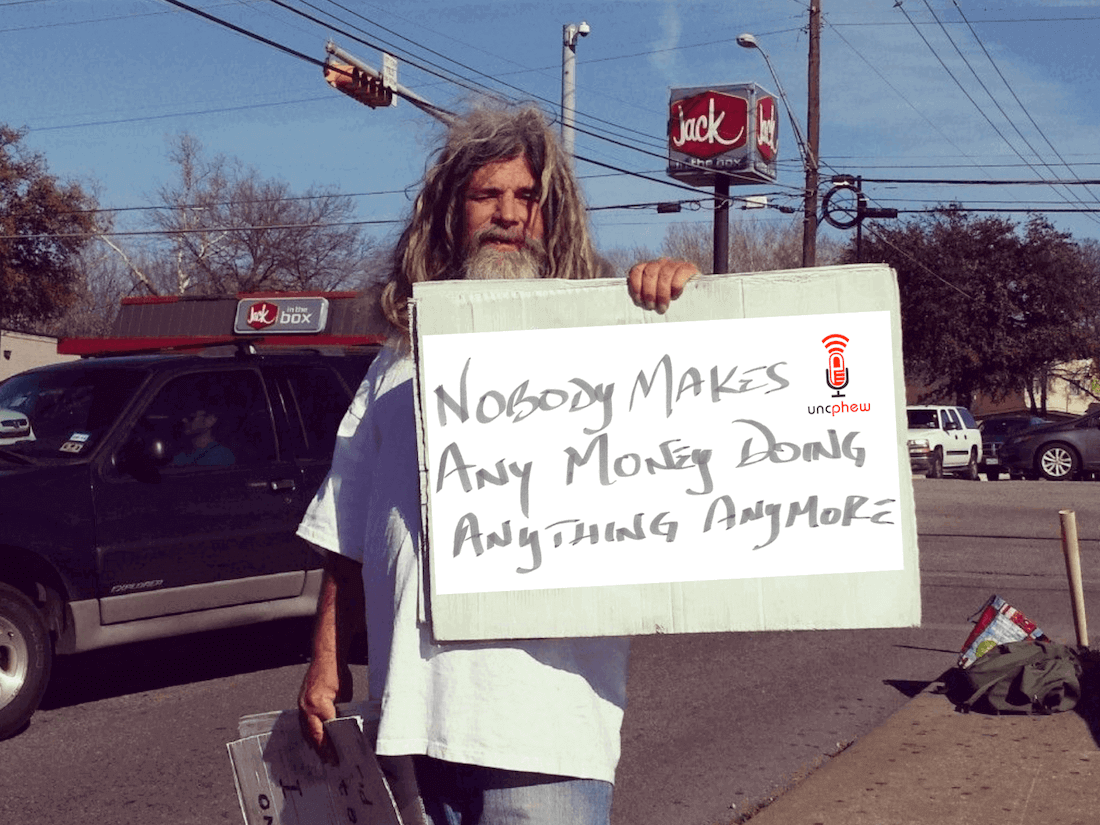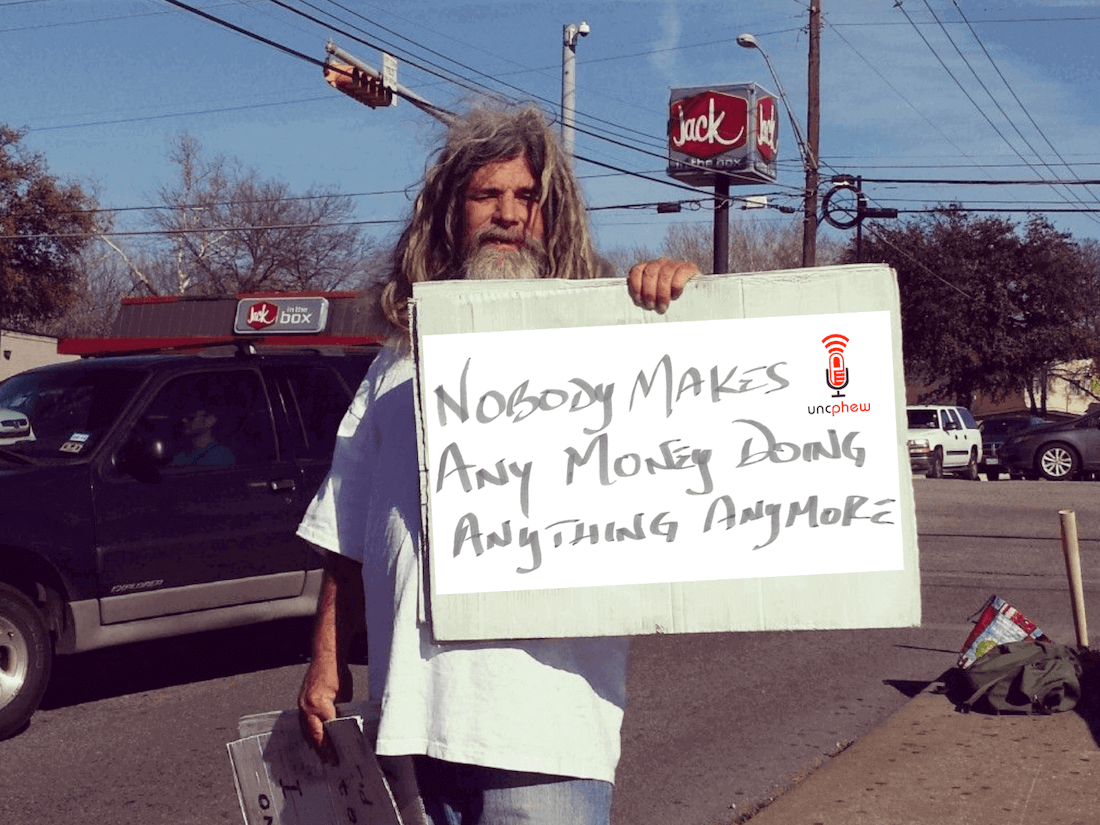 EP27: Nobody Makes Any Money Doing Anything Anymore
Nobody makes any money doing anything anymore. Welcome to the new gig economy!
Phew Continues His Obsession with Name Dropping
Phew is all jacked up on caffeine
Phew keeps narrowly missing famous comedians (how many names can he drop in one paragraph?)
Louis CK
Dave Chappelle
Hannibal Buress
Theo Von
Big fans of Theo Von; check out This is Not Happening
Phew drops another name – was on James Altuchur's podcast recently
People tune in to some people just to hear them talk about ANYTHING – the topic is secondary to the personality
How Phew Destroyed Unc's Career
The story of how Phew got into comedy
Mark Ridley approached Unc and asks him if he is serious about comedy
Unc convinces Phew to try stand up
Unc tells Gilda Hauser about Brendon
Gilda: He's not as good as you led me to believe
Brendon delivers as Unc predicted
Ridley also approached Phew; but this time, he offered Phew a contract to pursue comedy full time professionally
Phew's success led to Unc's demise on the Detroit stand up comedy scene
Unc went from being his own personality to becoming "Phew's uncle"
Brendon is one of those people whose material is secondary to his personality
Phew was invited to comedy podcast "Nobody Likes You"
Only places you can pursue comedy: New York or LA
We FINALLY Get to the Actual Point of the Podcast
Finally, we get to the topic: nobody makes any money doing anything
The old template: high school – college – corporate job – live of retirement
Now, we have the gig economy and the economic polarization of America
Everybody Phew knows has a side hustle
Many people have multiple side hustles
Phew has never earned a dime from doing 100 ish podcasts
Phew has done thousands of hours of stand up comedy and earned almost zero from that
Phew has written articles on Quora that have something like 7 million reads and has earned nothing from that
All of the spaces are privately owned in which discovery is based on algorithms
The head of digital news at NBC: "You cannot organically grow your YouTube channel beyond a certain point"
After that, you have to pay to play
City of Chicago now requires an entertainment license; this means many smaller establishments can no longer afford that, as it's $500 per month
Phew has a number of online courses on various educational platforms that are highly rated
Even though they are top sellers, they have earned almost no income
Technology: At Some Point, Will Kill Us All
What's the common denominator in all of that? Technology
Technology is destroying a lot of people economically
Everyone can create decent content
Very few people have the means to monetize it
Best Advice EVER
The single most powerful piece of advice I've ever received, from New York Times bestselling author Stefan Swanepoel: Making quality content is only 20% of the game; the real key, promoting it, is 80% 
Competition paying people to rate Phew's course poorly?
Astroturfing is now a major thing
You have to wear so many hats to make money with online courses
Thinkific is the place to do that
Technology has sped up the process of wrecking everything that happens after the gold rush
Something gets popular
Someone leverages it and makes a lot of money
Others see that and then rush in
Competition increases, profits decline, everyone loses
Unc had an average of 500-1,000 people showing up on webinars
Facebook has changed its advertising policies for the worse
Advertising a $750K home to an 18 year old? WHY?
Number one thing American kids want to be? A YouTube star
In the Future, We're All Like Porn Stars
Everything has become like a porn star: constant reinvention is required to survive
A bunch of documentaries about life after porn
Porn is constantly on the prowl for the next hot young chick
ALL OF US ARE LIKE THIS NOW: constantly remaking ourselves into something else
If you don't have those accoutrements around you, you're nothing
You should be doing more stuff – that's the way the market looks at you now
You have to be on ALL OF THE PLATFORMS
Platforms are constantly shifting
TikTok is just another Vine
Unc made a major investment in Twitter, to get up to 55,000 followers
The Attention Economy
You can't be great at every platform – that thought alone almost ruined Unc's interest in "the next platform"
When you KNOW today's platform will become obsolete at some point, how much can you invest in ANY platform?
Gary V: how to turn one piece of content into 70 unique pieces of content (it's 64, actually)
Gary V jumps in on EVERYTHING that's new
He wants to lead in every new platform – that's how he maintains his position and status
People who happen to be good at sales and marketing can succeed putting out marginal content
Gary V's entire approach: go where the attention is
The attention economy
My Podcast Just Started a Podcast
Does anyone NOT have a podcast these days?
The irony of saying "who doesn't have a podcast" on a podcast
Phew has THREE podcasts: Uncphew, The Madness Continues, and Funny Planet
A reason to do a podcast: being discovered, ala Candace Owens
No one knows where any of "this" is going
The pace at which technology is evolving is causing big companies to hesitate to invest
RIP, Google Plus
The story of Brad Horowitz at Google Plus, which was supposed to rival Facebook
Google spent a fortune trying to make something to rival Facebook – now, I Unc can't even remember the name of the platform
The importance of doing things for which you have REAL passion
Phew can't picture life without stand up comedy
Comedic Passion Personified
Chris Newberg now has a podcast, and has cranked out a TON of episodes overnight
Worked with Russell Peters and Dane Cook
Had number one comedy album on iTunes for 2019
Newberg is pursuing comedy for the same reasons as Phew is: for the love of the game
Phew hired a business coached: from now on, you're not going to do any comedy for free anymore (can't stop LOL'ing!)
CATCH UP ON OTHER UNCPHEW PODCASTS IN THE PLAYER BELOW!