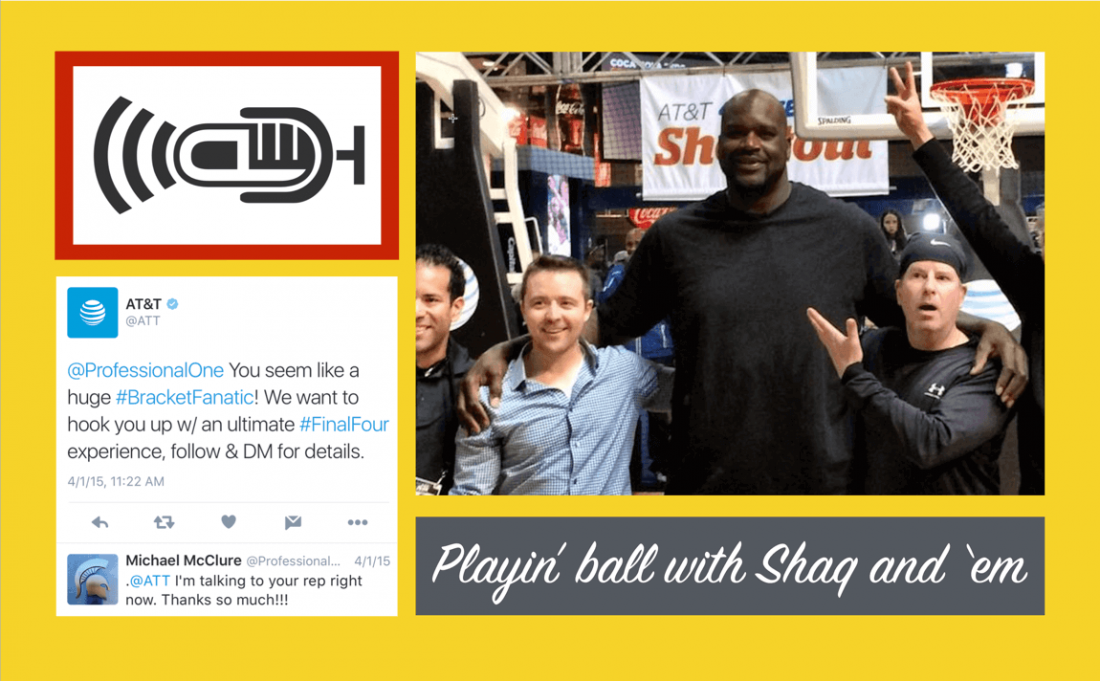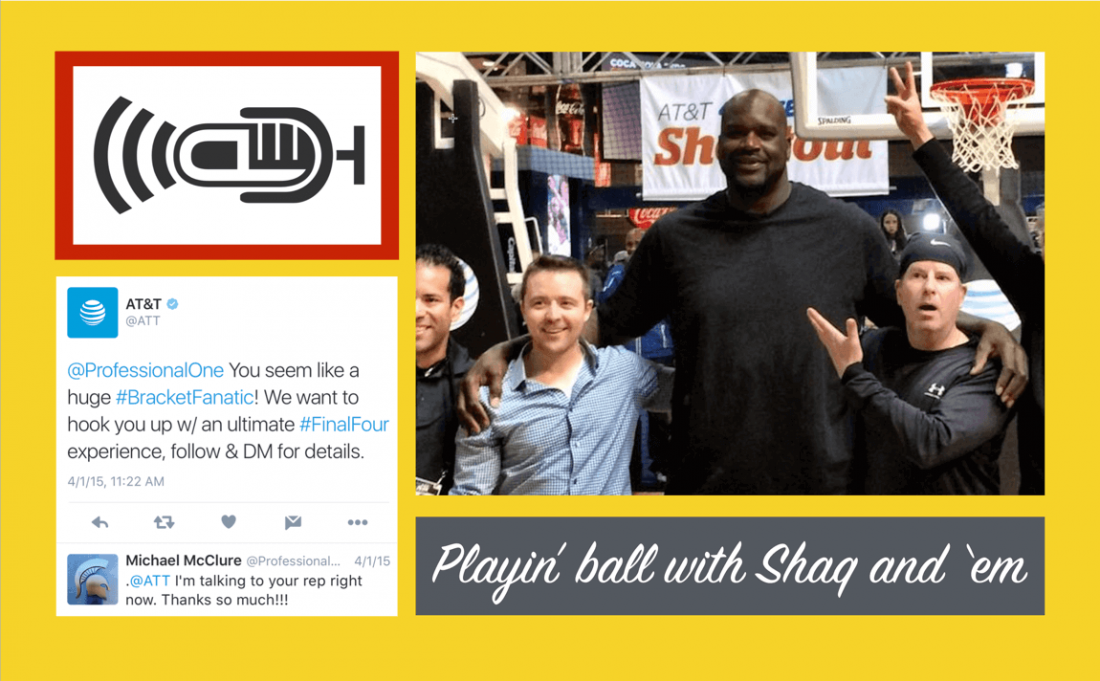 EP03: Hangin' with Shaq at the Final Four
In this episode, Unc and Phew discuss one of the true highlights of Unc's life: being named America's #1 Michigan State basketball fan. Because of that, Unc was asked to help AT&T promote the 2015 Final Four in Indianapolis. Of course, he brought Phew along, along with two of Unc's best friends. Click on the player above to hear of the nuttiness that ensued, including hangin' with Shaq!
Unc is a Michigan State grad and a pretty hardcore Michigan State sports fan, and in particular he's a huge fan of Tom Izzo and the MSU basketball program [1:29]
During 2015, as the team was advancing toward what turned out to be its seventh Final Four appearance in 17 seasons, Unc was doing a ton of Tweeting and Facebook posting about the Spartans. Below was his final post before the lightning struck [1:38]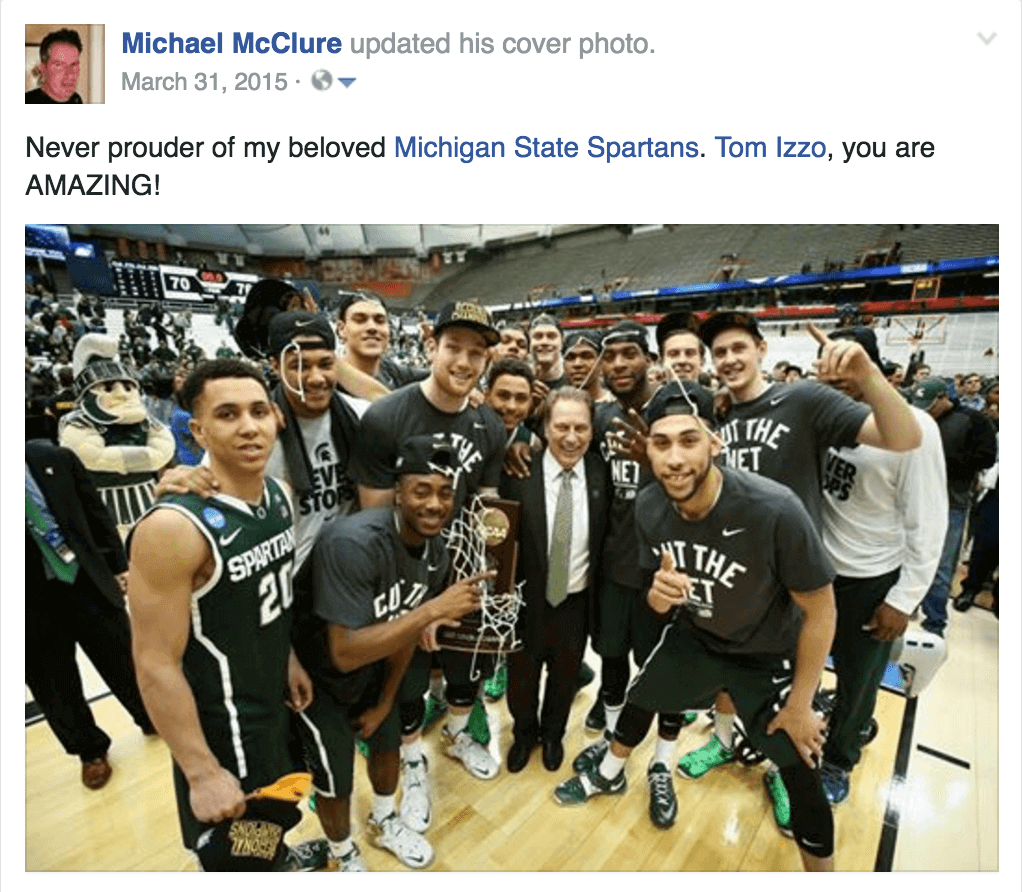 On (of all days) April Fool's Day, AT&T Tweeted to Unc (see the image at the top of this page) and asked him if he wanted "an ultimate, "Bracket Fanatic" Final Four experience." AT&T was looking for the top fan from each of the Final Four schools, and Unc was their top choice for MSU based on his social media activity. AT&T's offer was ridiculously generous: Unc could bring three friends, they would pay all of their travel expenses and put them up at the hotel where Kentucky (the prohibitive favorite to win the title) was staying, and they had a bunch of surprises in store for them [2:12]
Because it was April Fool's Day, Unc didn't think the Tweet was real. AT&T also tried to call Unc (he didn't answer the phone) and then texted him [3:11]
Given their prior efforts, the text was AT&T's last attempt to contact Unc [3:19]
Unc replied to the text, saying he was interested, but in reality he STILL thought the whole thing was a hoax [3:43]
He texted and called a few of his friends, and ultimately decided there was a good enough chance that it was real that it was worth exploring [3:54]
After talking with others, decided to treat it as if it was legit [4:15]
Fast forward, it turned out to be true. Unc invited Phew, his best friend from college Tracy Lorenz and one of his best friends from recent years and huge sports nut Sean Carpenter. All quickly accepted the offer [4:39]
AT&T picked Unc because of the legitimacy of his postings about Michigan State basketball, but also because of his social media success and metrics. Part of the deal was to go and create buzz about the Final Four on behalf of AT&T: "go and do what you do"  [5:55]
The level of Unc's MSU fandom [6:43]
Michigan State is in the midst of its greatest era in school sports history [7:19]
Tom Izzo: "the greatest coach in modern NCAA tournament history by far" [8:12]
Izzo's teams always do better than expected. He takes B+ talent and overachieves [8:18]
What this meant for Phew in his life at the time [8:50]
When they arrived on Friday night of Final Four weekend in Indianapolis, they were greeting by a literal camera crew at the entrance to the hotel, led by Daniel Mogg, along with their handlers, Bryan Nelson and Hannah Meyers (what awesome people they all turned out to be!) [10:02]
If you've never been on an elevator with a video camera crew… [10:40  ]
The crew followed them up to their rooms, and videotaped them as they walked in to discover their beds covered in Michigan-State-specific swag, along with other amazing gifts: shirts, hats, gift cards, a GoPro camera, a Beats Pill, Beats wireless headphones, and a lot more (image below) [11:17]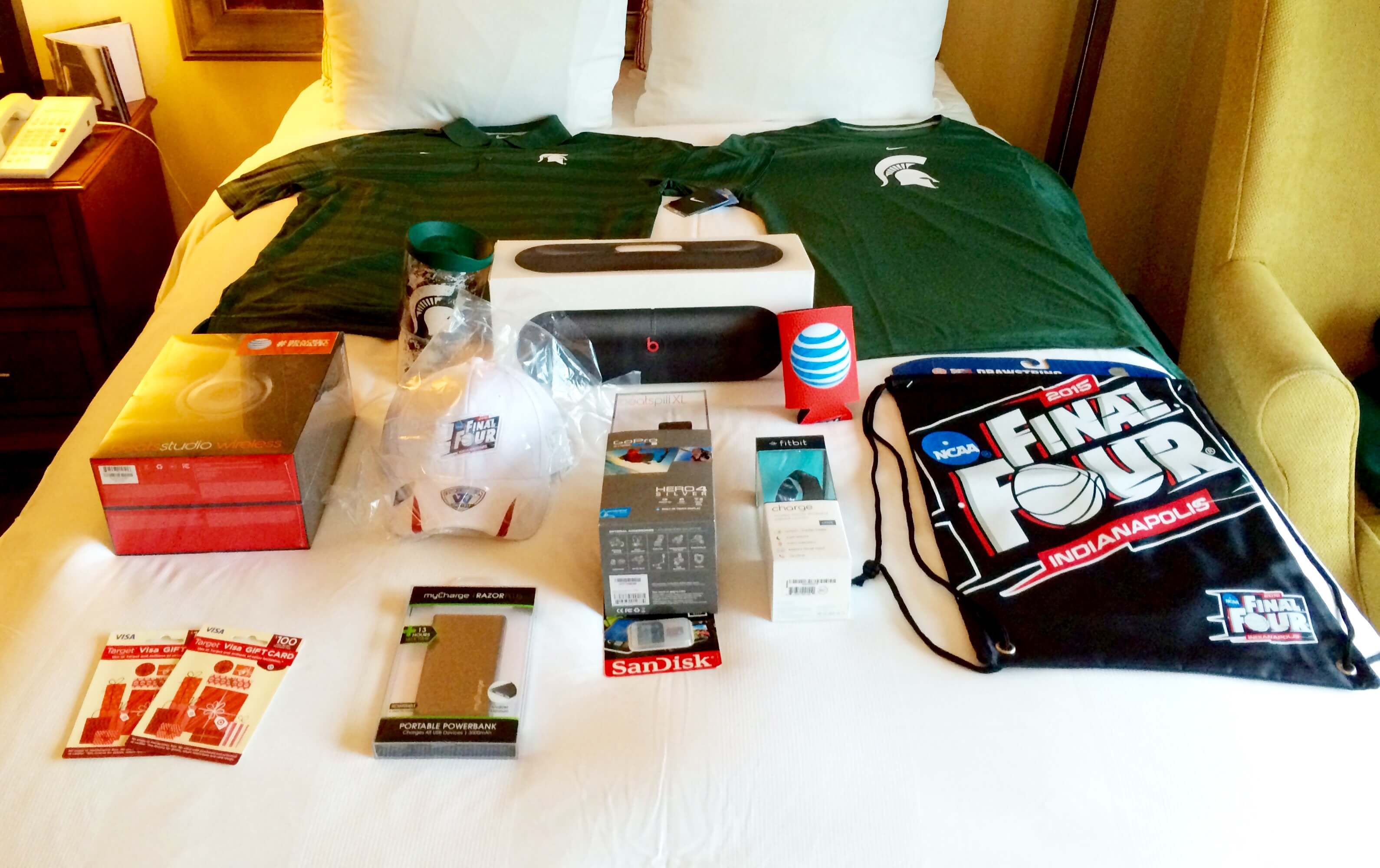 Bryan and Hannah said they would be taking everyone to the most famous steakhouse in Indianapolis, St. Elmo's, in a few hours to get things kicked off [13:52]
A little while later, Unc, Phew, Tracy and Sean were taken to the restaurant and dropped off. They were told they could order anything they want, with zero limitations. They enjoyed a ridiculous meal, highlighted by St. Elmo's famous shrimp cocktail, which features a sauce so hot we can still taste it. The waiter that served them had been working at that place for 28 years. There were celebrities and athletes everywhere, and it was a truly awesome experience [14:23]
Phew then texted Hannah to let them know they were done, and she said, "Do you have any interest in seeing an Imagine Dragons concert?" The response was, "Uh, yes? Of course!" The crew then walked a few blocks to an outdoor venue where the concert was already in progress. They were led into a VIP suite featuring "free everything," and they enjoyed the concert from that vantage point at the back of the venue [17:11]
Hannah then said, "Do you want to go down and watch the concert from right in front of the stage?" The answer was again a resounding "YES!" [18:52]
Hannah then let them down a railed in walkway that ran down the left side of the venue. The vantage point from this position was awesome. They ended up in a mosh pit position on the left side of the stage. You can watch a short video Unc filmed below [19:11]
Already feeling like kings at that point–dinner at the best steakhouse in town, an awesome concert, fantastic moship location, free drinks, etc.–Heather then said, "Would you like an even better place to watch?" Umm…yes? She gave the crew special VIP passes that allowed them to go behind the stage, and then climb some stairs onto a catwalk that afforded an incredible view of the band at very close range. Even cooler was being able to watch the totality of the audience responding to the band [19:55]
They were there as Imagine Dragons closed their performance with their quintessential hit, "Radioactive." Below is that song, which was their grand finale. You can get some sense as to how close Unc and Phew were to the action [20:33]
Client service excellence personified. From start to finish, the care and attention they received from Bryan, Hannah and their boss Jay Couch was simply over-the-top ridiculous [21:05]
Phew in Narnia [22:53]
They then went back to the VIP structure, where they hung out with Heather and various other people until the very, very wee hours, including many former college and pro basketball stars. Way too much alcohol was consumed, but they were having too much fun to stop [23:01]
They were told that next event on tap was a trip to the NCAA Hall of Champions, which was located just a few blocks from our hotel. They got up on Saturday morning and toured that facility, which was very cool (Indianapolis is the home of the NCAA) [26:17 ]
Saturday evening kicked off with the Turner/CBS Pre-Game Party, which was an extravaganza on an epic scale. The event was held at the Indiana Convention Center, which is the single largest non-football-stadium venue Unc or Phew had ever seen. It was so big it's not really describable. A great time was had by everyone, and you couldn't look in any direction without seeing someone (or a bunch of someones) famous (it seems as if the Final 4 attracts pretty much every VIP in America). Below is a photo taken at that party [27:26]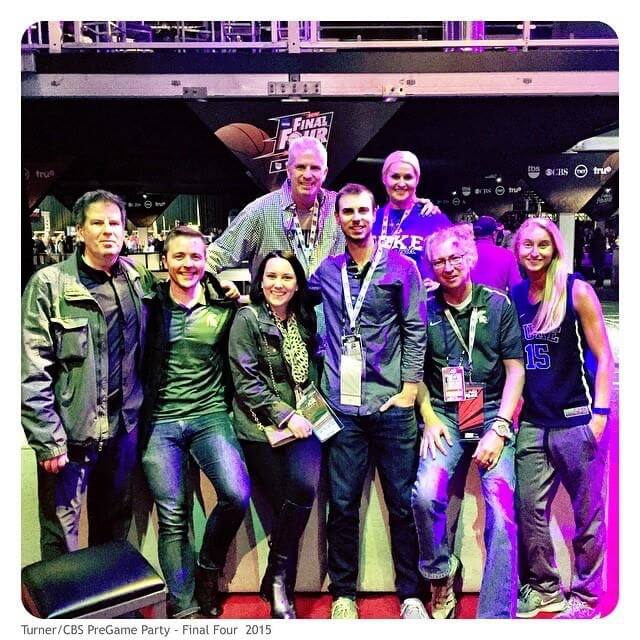 Option paralysis: too many choices [31:05 ]
The highlight of that night was of course the two Final 4 semifinal games. First up was Michigan State vs Duke. We'll skip much detail on that one, as Duke won handily. In the second game, Wisconsin shocked tournament favorite Kentucky [34:17]
Hannah made a point of telling Unc that there was a "special event" planned for around 1 pm the following day [34:56]
Skipping past major chunks of the story (being late for that "special event," Hannah RUNNING through the Convention Center carrying both Unc and Tracy's backpacks, Hannah forcing everyone in past security so we wouldn't be late, etc.), the gang ended up on a basketball court inside the Convention Center, shooting hoops in front of a meandering crowd that was trying to figure out who they were and why they were shooting hoops [35:40]
You can follow the rest of what transpired–Shaquille O'Neal making a surprise appearance, Unc, Phew and Tracy playing HORSE with Shaq, etc.–in the video below [37:27]
Shaq COULD NOT have been more playful, fun and gentle. He was like a big happy kid who seemed to be having as much fun as we were [44:38]
Shaq's amazing success, both on and off the court [45:18]
Part of the TBS basketball crew, along with Kenny "The Jet" Smith, Charles Barkley and Ernie Johnson [46:11]
We were stereotypes of caucasians [46:44]
Photo of Phew staring down Big Aristotle (see below) [47:08]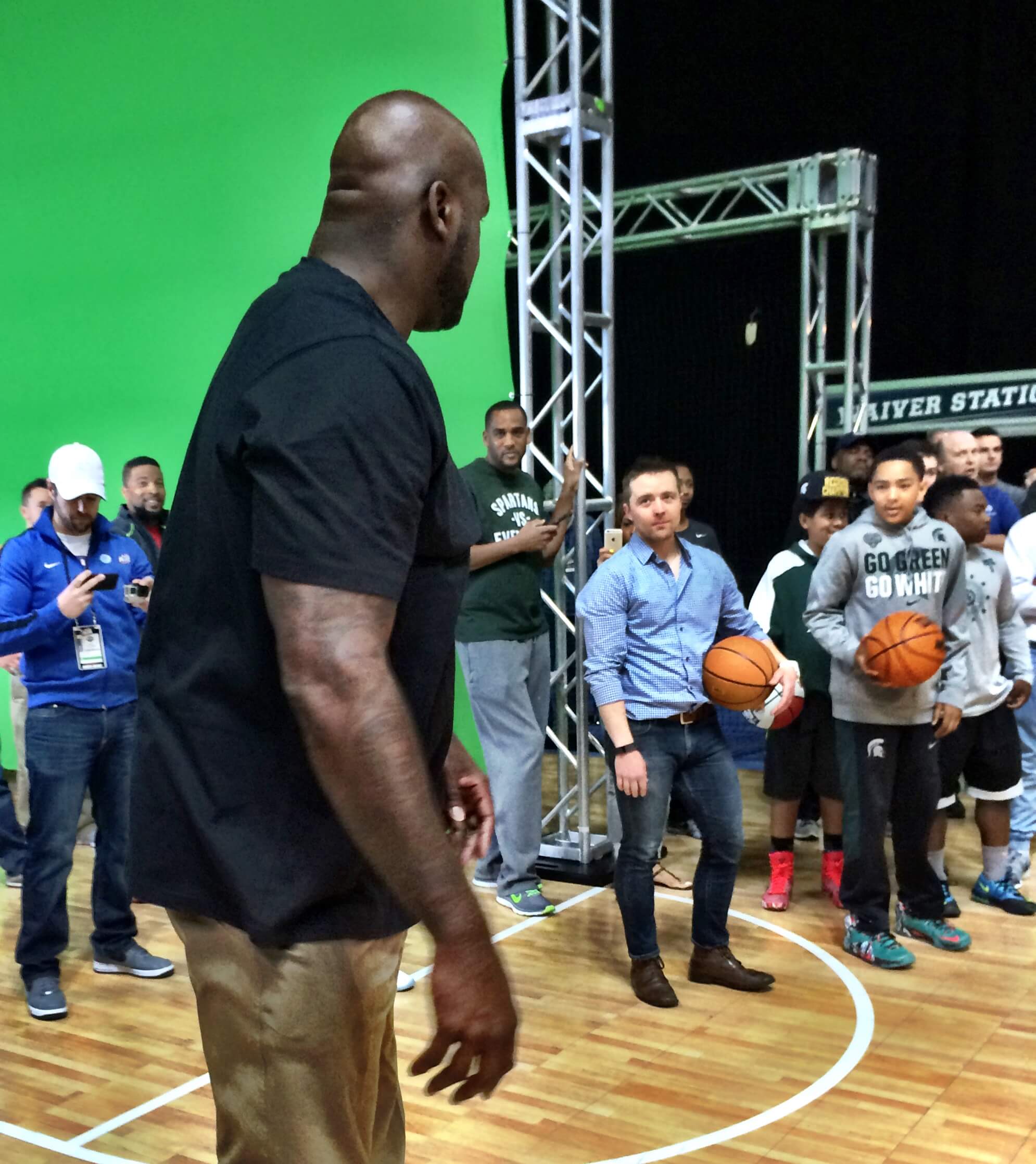 On the court with Shaq FOREVER [47:50]
Getting Michigan State hoops legend Steve Smith's kid involved [51:40]
The emcee halts the chaos [52:30]
Jay Couch took some amazing photos of Unc and Phew with Shaq [53:24]
There was no Wisconsin superfan [54:40]
Ranni Haddock, the Duke superfan, and her awesome mother, Anna [55:08]
Sean's gift for meeting people; he is a savant for building rapport with people (meeting Dennis Miller for the second time in two days; see image below) [56:44]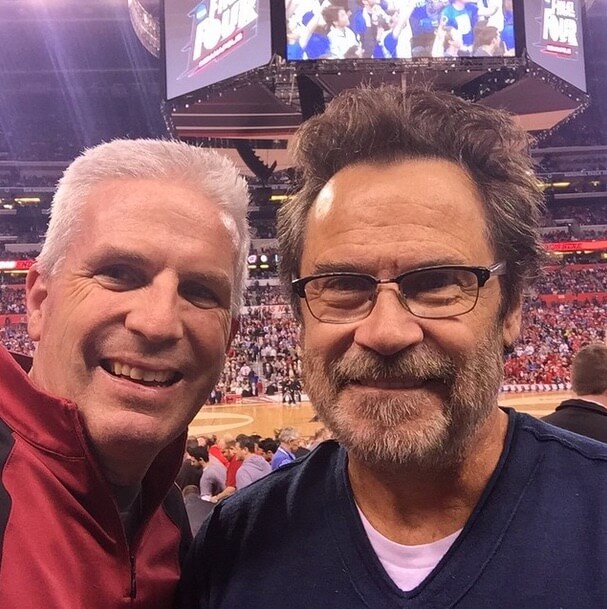 Seeing someone as famous as Shaq being such a great person [58:55 ]
After hooping it up with Shaq, you'd think there'd be some downtime, but, alas, 'twas not to be the case. Unc, Phew and Tracy were then taken to eat at yet another super-luxe restaurant. How luxe? Mitt Romney and his wife were seated about four tables away from where the guys enjoyed yet another incredible meal [1:00:38]
The guys went back to their rooms to chill a bit. While doing some video work, they were witness to a completely unexpected fireworks display going off just outside their window. Given everything else magical that had already taken place, this just somehow seemed fitting and almost felt expected [1:02:54]
The next day, Unc, Phew and Tracy were taken to a tour of the Indianapolis 500. Of course, they got to kiss the bricks, and Phew couldn't resist the opportunity to stand on the victory podium and pretend he was a speed racer [1:03:40]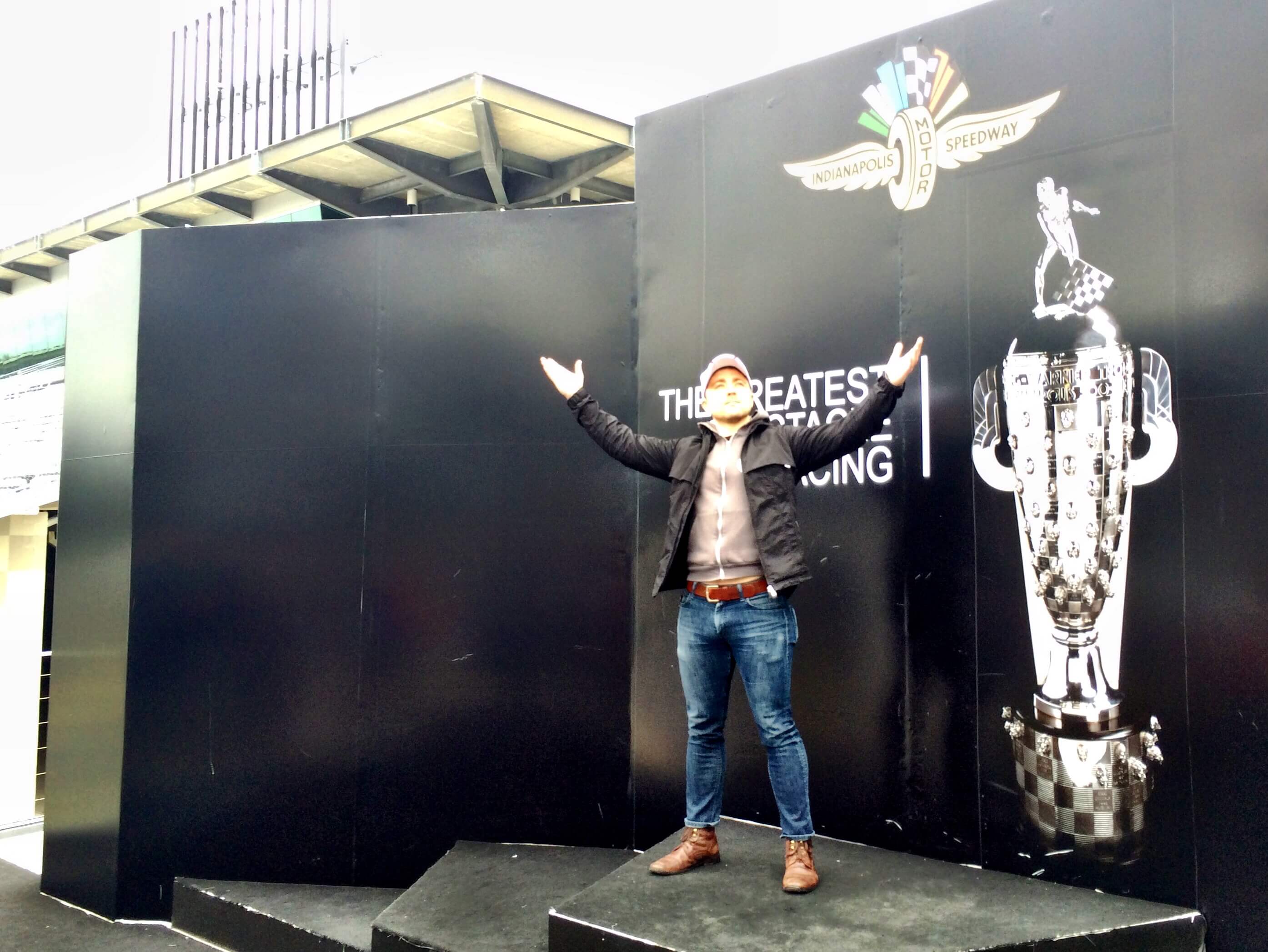 After that, there was yet ANOTHER Turner/CBS Pre-Game Party, with another over-the-top assemblage of sports, political and cultural dignitaries [1:06:18]
It was then on the Final Four Championship game, between Duke and Wisconsin. Duke ended up winning. Unc and Phew didn't care much about the outcome (as Unc's beloved Spartans were not playing), but they felt good for Duke superfan Ranni Haddock, who they really enjoyed hanging with during the totality of the event. Below, Phew schmoozes with Rani and Rani's mom, Anna (they look like sisters, don't they?) [1:06:42]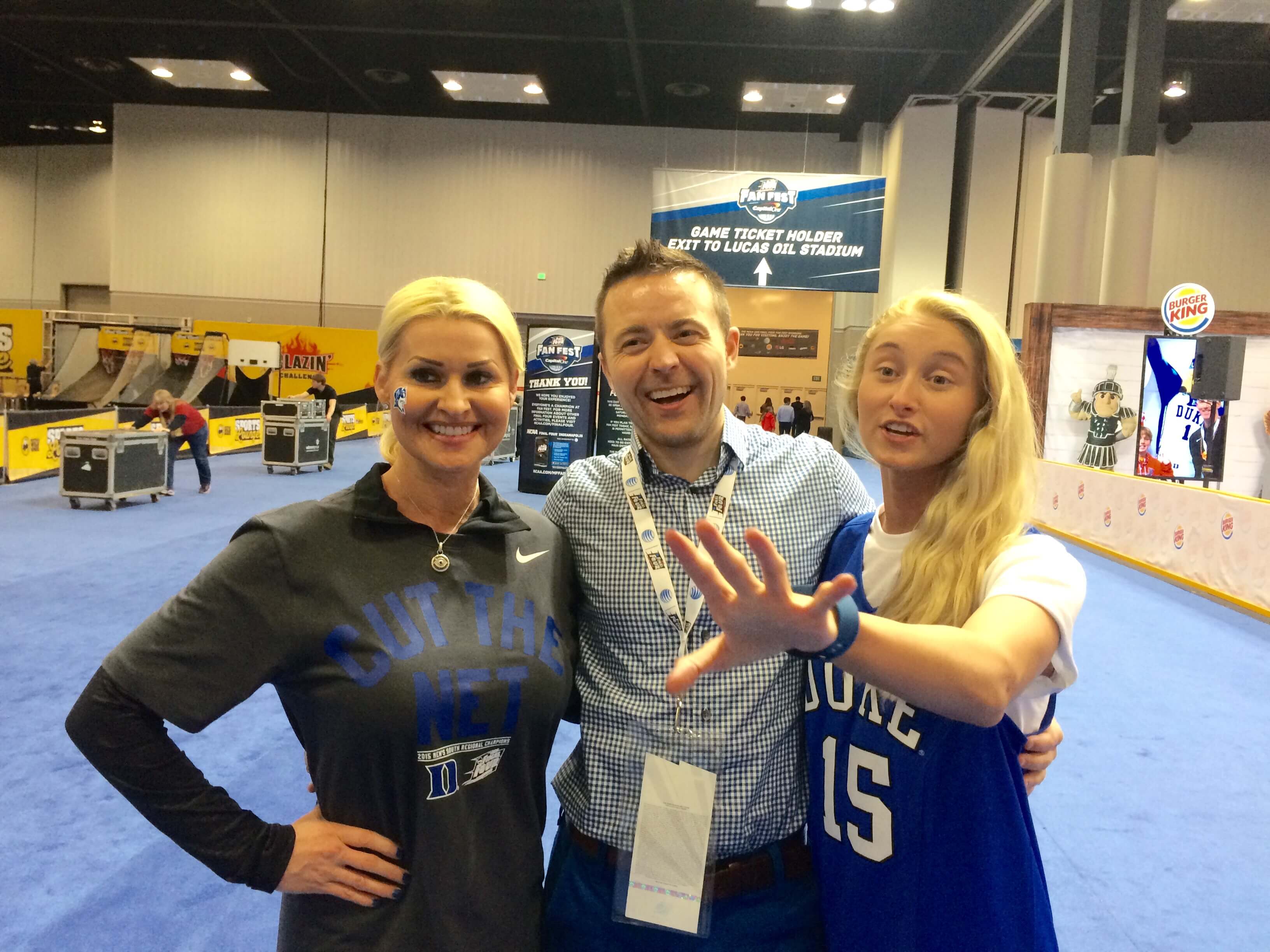 After the game, everyone convened in the hotel bar, where the action didn't stop until well after 2:00 am [1:07:30]
Stepping through to Narnia [1:10:06]
So much gratitude [1:10:54]
Things can be good again [1:12:21]
Dated the waitress for six months after that [1:12:42]
What would have happened if Unc didn't get invited? [1:12:59]
Got the job in Chicago riding that energy wave [1:13:51]
The real story of why Unc invited Phew [1:14:39]
God v universe [1:16:18]
Unc's office destroyed by flood [1:19:24 ]
THANK YOU: AT&T, Jay Couch, Hannah Meyers, Bryan Nelson and Shaquille O'Neal [1:20:45]
CATCH UP ON OTHER UNCPHEW PODCASTS IN THE PLAYER BELOW!